Stranger Things' Shannon Purser really wants to play Squirrel Girl. Marc Guggenheim dishes details on Legends of Tomorrow's new Vixen. Morena Baccarin teases love in the air for Gotham season three. Plus, looks at new Transformers heading to The Last Knight, and new footage from Moana. Spoilers Now!
Thor: Ragnarok
According to The Hashtag Show, the Cotati—a race of plant-like aliens that first appeared in Marvel's comics in 1975—will appear in the film.
In the comics, the Cotati are not just the beings who awaken Mantis' telepathic powers, but also come from the same homeworld as the Kree (who have of course appeared in Guardians of the Galaxy already in the form of Ronan, as well as Agents of SHIELD), leading to speculation that Mantis, due to make her debut in Guardians of the Galaxy Vol. 2, could make an early appearance in Ragnarok.
The nosecone of a Quinjet has been spotted on set—presumably the same Quinjet the Hulk went AWOL in at the end of Age of Ultron.
G/O Media may get a commission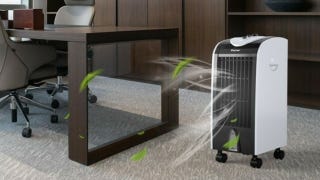 Save $10
Evaporative Portable Air Conditioner Cooler with Filter Knob
---
The Phantom Tollbooth
Michael Vukadinovich is allegedly writing an adaptation of the children's fantasy classic for TriStar. [The Tracking Board]
---
Squirrel Girl
Shannon Purser, who played Barb in the outstanding Netflix series Stranger Things, really wants to play Squirrel Girl:
I think Squirrel Girl is just adorable but at the same time is totally boss and completely awesome. I think people need a character like that. It's easy in the superhero realm to feel like a lot of the female superheroes we see are grown women who are super responsible and know what their purpose is and that kind of thing. Squirrel Girl is a little bit younger and like a real person, trying to figure out her life and then also having to save the world. I love that.
We should continue to point out that there's currently no talk of a Squirrel Girl adaptation in the works—but the sudden uptick in interest from actors willing to play the role might at least be a hint to Marvel that there should be? [Revelist]
---
Transformers: The Last Knight
Here's new art of Squeeks, Drift, and Crosshairs, revealed on the film's Facebook page.
---
Moana
A new TV spot introduces the Lava Witch.
---
Legends of Tomorrow
The show is being "rebuilt, piece by piece" according to Phil Klemmer.
I guess the biggest lesson is, before you break a first episode, it's really important that you take a step back and think about the ramifications of everything. Because we didn't do a pilot, it was like stepping on a moving train, and we didn't know where it was headed. You can change the speed of that train, conceivably you can have people run up ahead and try to move the tracks a little bit, but it's not easy to do. It's much easier to do at the incubation stage. We really took our hiatus this year and took the show apart, and rebuilt it piece by piece. We're much more deliberate, just thinking about where is this going to take us. A lot of the story of Season 1 felt like they were compulsory because we put certain story elements into motion. You killed Rip's family, you've got to avenge that. We said that Vandal Savage is going to ruin the world, we've got to stop that. Oh, we revealed who our bad guy is, that doesn't leave much room for mystery.
[CBR]
Marc Guggenheim elucidates on the new Vixen:
You've got Captain Cold, who was a criminal and out for himself. He's replaced by Vixen, who is the definition of a superhero. She's a member of the Justice Society of America, she's from the 1940s, everything is prim and proper — not stuck up, but she does things right. You have this team that doesn't do things right, they're a bunch of fuck-ups. So she's interesting counterpoint.
[CBR]
---
Gotham
Morena Baccarin teases Doctor Thompkins' new love interest:
New character: It's Falcone's son. I think I'm allowed to tell you all this. Nobody's stopping me. A thunderbolt hasn't struck me from the sky, yeah!

This new love interest is going to be very interesting because we've only ever seen Leslie with Jim. We've only ever seen their love story. And now there's something for him to work for. So it'll be … it's exciting as an actor to play that conflict. He's certainly not a choir boy, so we'll see what happens with his life. It will not be easy. So they'll have something to work towards.
[CBR]
Here are a few more character portraits—you can see more at the link. [Coming Soon]
---
Supergirl
Katie McGrath has already been spotted in costume on set as Lena Luthor.
---
Once Upon a Time
Finally, the fourth episode of season six will be titled "Strange Case."
---
Additional reporting by Gordon Jackson. Banner art by Jim Cooke.