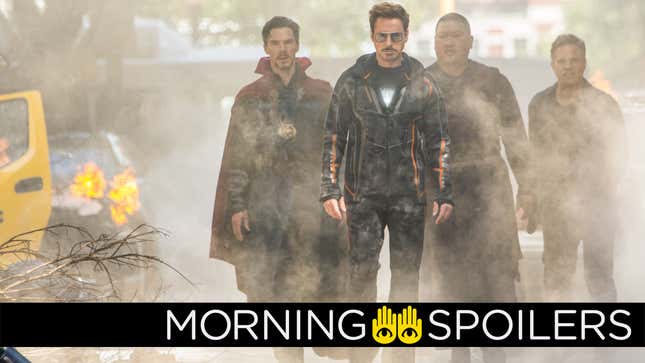 Lynda Carter says she's could be making an appearance in Wonder Woman 2. There's more rumors about who'll be joining Harley Quinn in the Birds of Prey movie. Colin Trevorrow is already teasing Jurassic World 3. Plus, intriguing casting for Stranger Things' third season, and new looks at Cloak and Dagger. Spoilers get!




Avengers 4
Salt shakers, assemble! That Hashtag Show reports 16-year old actress Emma Fuhrmann has joined the cast as a significantly older incarnation of Ant-Man's daughter, Cassie Lang—possibly corroborating previous set pictures that appeared to show Captain America in his original Avengers costume that time travel (and, presumably, use of Doctor Strange's Time Stone to do it) plays a major part in the movie.
Meanwhile, Sebastian Stan confirmed to The Independent he shares a scene with Michael Douglas, Michelle Pfeiffer and "everybody" else in the movie:
There was one scene, I think, we had where everybody was there. I can't really talk about that scene, but I knew it took them three months in planning this scene to have everyone there. You look around and you just saw everyone from Samuel L. Jackson to Michael Douglas to Michelle Pfeiffer. Everybody was there.
G/O Media may get a commission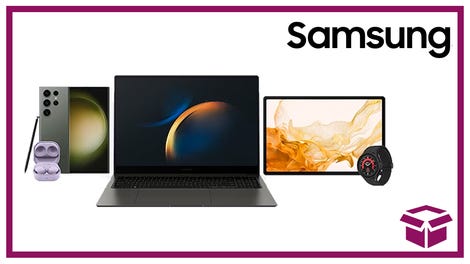 24 hour deals
Discover Samsung - Daily Deal
---
Jungle Cruise
THR reports Edgar Ramirez has joined the cast as "a man with a conquistador background who is one of the story's villains."
---
Furiosa
Screen Rant was able to ask Charlize Theron about her thoughts on the long-rumored Furiosa spinoff:
I hope so. I love that character I loved working with George Miller and if he was ever on board, yeah. I mean, I would be in right from the beginning. With him (George Miller) it's kind of like working with Jason Reitman. I wouldn't even need to see a script, I trust him that much and it's great when you have that with a filmmaker.
We won't be holding our breath though.
---
Alien Franchise
In a recent interview with Yahoo! Movies, Ridley Scott backtracked on recent comments that the franchise needs to evolve beyond H.R. Giger's iconic Xenomorph design.
In my career, which has been pretty long, there's only been, with the greatest respect for the people I've worked with, two real, real originals. Funnily enough, I came across a guy called HR Giger and if I hadn't got that monster you would not have had that movie.

I saw the drawing – the drawing was drawn for the book, not the film – and I was so kind of taken, I flew to Switzerland where he lived because he didn't want to get the plane as he was scared of flying. I met him in Zurich at his home and I persuaded him to travel by train to come to England and live at Shepperton studios for ten months. And he did.

It wouldn't have been the same movie. Whilst the cast was wonderful, with Sigourney [Weaver] and Harry [Dean Stanton] and those people, but without that eighth passenger it wouldn't have been the same film.

What I'm trying to say is that there are rarities, there are those [ideas] that occur once in the while, not that often, but when they do grab them and hang on to them.
---
Wonder Woman 2
Lynda Carter revealed to USA Today she's in active discussions to join Wonder Woman 2. Following the broadcast, The Wrap reached out to Carter for a comment:
That is up to Patty Jenkins. I've been talking to her about it. She's given me some hints about it and I guess it's up to Warner Bros if they want to spend the money … It really is up to Patty, and if it works in an organic way it'll be great fun and it'll be wonderful to do.
---
The Highwaymen
That Hashtag Show also reports DC is developing a film adaptation of the 2007 limited series, The Highwaymen, concerning a pair of retired couriers getting back into transporting deadly cargo.
---
Birds of Prey/Suicide Squad 2
Variety's Justin Kroll reports only Batgirl and Harley Quinn are in both versions of the film's script, meaning they could be joined by a host of different female DC heroes in the superhero group. Kroll also adds that the Suicide Squad sequel could possibly shoot almost immediately after Birds of Prey.
---
Jurassic World 3
In a recent interview with Entertainment Weekly, Colin Trevorrow described Jurassic World 3 as a "science thriller."
If I could contextualize each film, I would say Jurassic World was an action adventure, Fallen Kingdom is kind of a horror suspense film, and Jurassic World 3 will be a science thriller in the same way that Jurassic Park was.
---
Jurassic World: Fallen Kingdom
Elsewhere, Coming Soon has the latest poster for the more immediate Jurassic World: Fallen Kingdom, featuring some very weird faces you wouldn't usually put on a poster, honestly.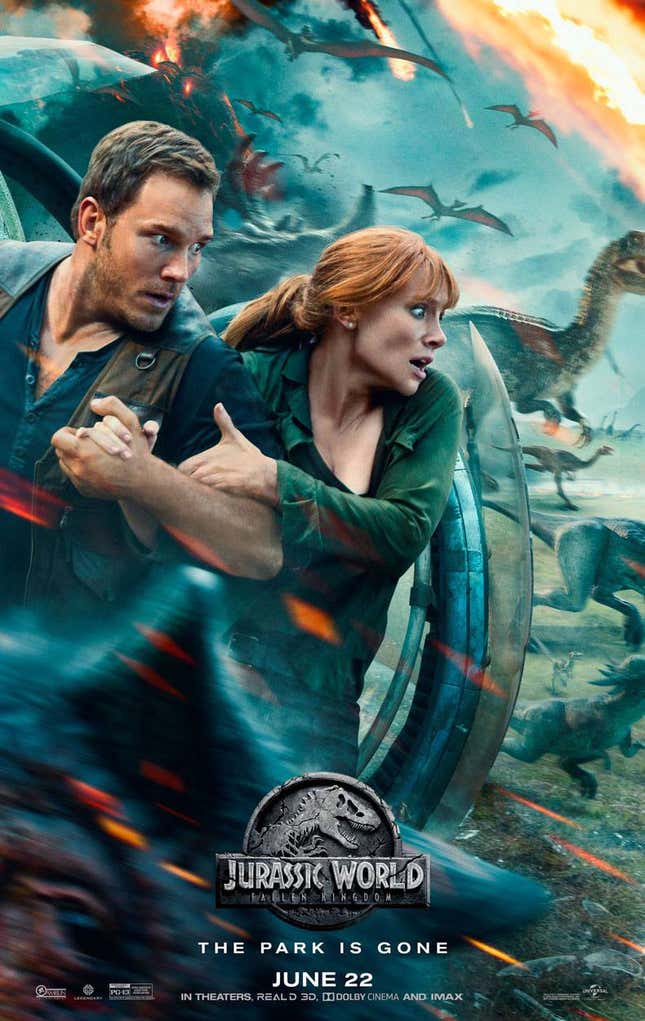 ---
Solo: A Star Wars Story
Writers Lawrence and Jonathan Kasdan appear as guests on the latest episode of The Star Wars Show to discuss collaboration and the age-old challenge of writing dialogue for Chewbacca.
---
The Nun
Coming Soon also has a teaser image from The Conjuring 2 spinoff, The Nun.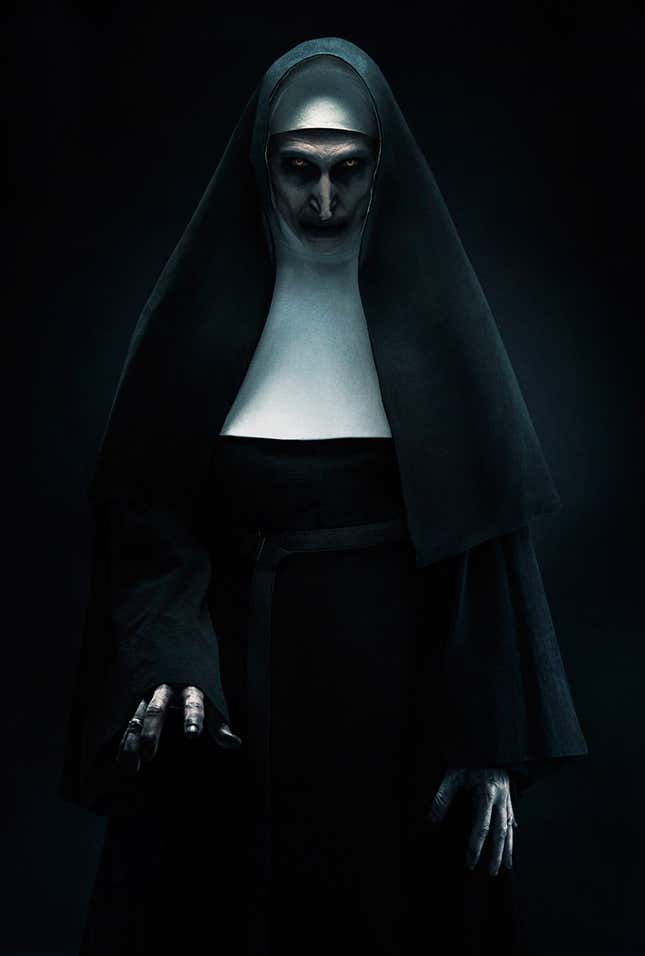 ---
Cargo
Martin Freeman runs afoul of an Australian zombie in an exclusive clip from Bloody-Disgusting.
---
Mirai
Here's the first trailer for the latest film from Mamoru Hosoda (Samurai Champloo, Wolf Children, The Girl Who Leapt Through Time) about a time-traveling boy meeting ancestors from different eras alongside his sister from the future.
---
Stranger Things
Deadline reports Cary Elwes has joined the cast of season three as Mayor Kline, a "handsome, slick and sleazy… classic 80s politician — more concerned with his own image than with the people of the small town he governs."
As well as Elwes, Jake Busey has also joined as Bruce, a journalist for The Hawkins Post with "questionable morals and a sick sense of humor."
---
Deadly Class
Syfy has ordered the Russo Brother's adaptation of Deadly Class starring Wes Craig and Benedict Wong to series. [THR]
---
Westworld
Speaking with Indie Wire, Ed Harris revealingly stated The Man in Black is "a protagonist" of season two, though "he's worried about season three, to tell you the truth."
I see him as a protagonist actually, yes. Particularly this season. The maze is history. He's on a whole other track this year, and I think the track that he's on definitely makes him a protagonist. I'm worried about Season 3, to tell you the truth.
---
Cloak & Dagger
KSiteTV has images from the first two episodes of Freeform's Cloak & Dagger, "First Light" and "Suicide Sprints." Click the corresponding episode title for more.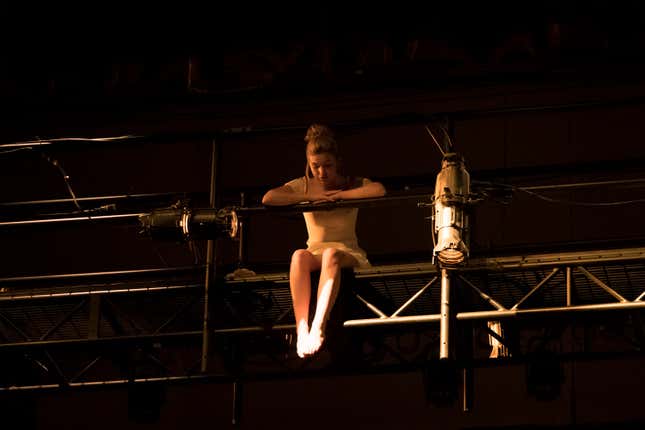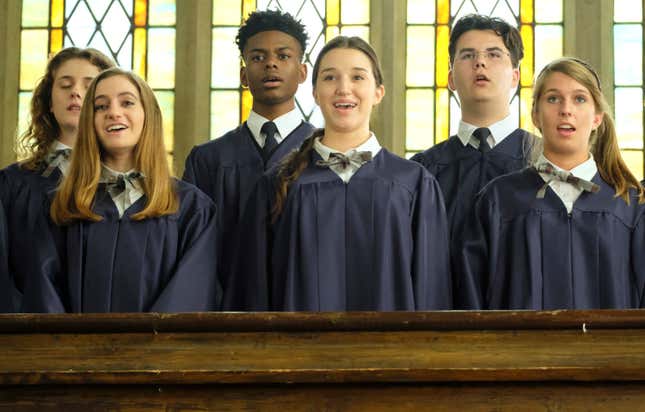 ---
iZombie
Spoiler TV has images from episode 10, the outstandingly titled "Yipee Ki Brain, Motherscratcher." More at the link.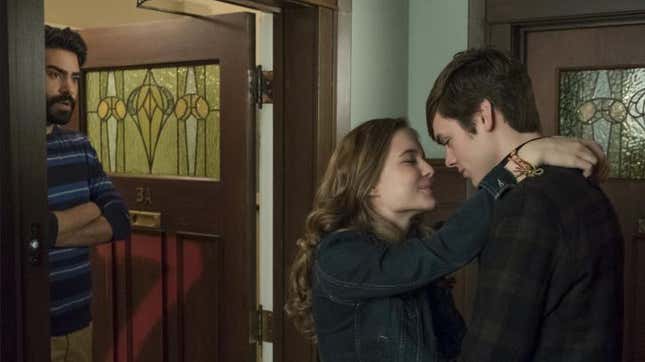 ---
Supernatural
Dean gets spooked by a backseat driver in a clip from tonight's episode, "Funeralia."
---
Krypton
Finally, Syfy has a trailer for what's to come on the "coming weeks" of Krypton.
---
Banner art by Jim Cooke.