Two of the writers of Terminator: The Sarah Connor Chronicles are bringing Skynet back to the small screen. But is there room in the already crowded Terminator timeline for another series? And what could it possibly be about?
The Hollywood Reporter is reporting that Zack Stentz and Ashley Miller of the legendary TSCC, are working on bringing the Terminator franchise back to the television. The writers (who also penned Thor and X-Men: First Class) have been tasked with writing and executive producing the new series that is being labeled as a "companion piece to the rebooted trilogy." Here's where things get interesting:
According to THR:
"The TV series will follow a critical moment from the first Terminator film (1984), and where the film's story goes one way, the upcoming series will take the same moment in a completely different direction. As the rebooted film trilogy and the new TV series progress, the two narratives will intersect with each other in surprising and dramatic ways."
Which means that this film has to play by the rules of the first movie (to some degree). A movie where John Connor has not yet been born (or even conceived for half of the film). Which means the key players are Sarah, Kyle the T-800 and the fetus of John Connor. It sounds like an alternate timeline or a more fleshed out timeline that branches off from the first movie much in the same way The Sarah Connor Chronicles fleshed out the time line after Terminator 2. The only question is, at what point in the first film does the new series make a detour?
Also this statement may imply that the TV series and the new Terminator movie will intersect in some way. We already know that secret casting is underway for a new movie version of Sarah Connor, so does that mean these actors would be contractually required to appear in the show? Or does that rule out any Sarah Connor cameo at all? Honestly, it's probably all hearsay until this series finds a home and a network.
G/O Media may get a commission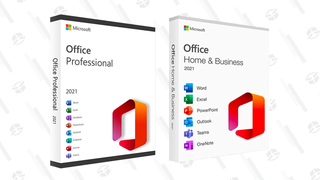 89% off
Microsoft Office Professional 2021 Lifetime License
Alan Taylor's Terminator movie has a planned release date of July 1st, 2015. So if this is going to happen (and intersect with the film), it's gotta happen soon.
Now taking all wild guesses for possible story lines!