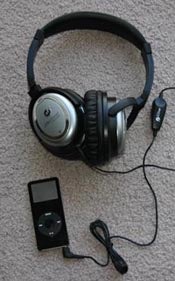 The Able Planet Clear Harmony headphones made quite the splash last month at CES, winning a CES Innovations Design and Engineering award. I have been trying out these headphone since then and I am mighty impressed—especially compared to other high-end sound-isolating headphones that I have used from the likes of Bose and such. What makes these noise-isolating headphones different from the average bunch is the use of Linx Audio technology. Linx was originally developed for hearing aids, but was adapted into headphones to ensure the youth of today will need hearing aids in the future. It is like the circle of life. Jump for more, including a beautiful gallery.
The Linx technology increases the intensity of higher frequency harmonics in the audio signal. In layman's terms: it makes the audio sound good, damn good. These headphones, at $299, are definitely comparable, if not better, than some of the Bose headphones that carry a higher price tag.
In addition to the great sounding audio, these headphones provide 18 decibels of active noise cancellation. The noise cancellation is activated with a switch and powered by AAA batteries within the actual headphone. The inclusion of standard batteries is one of the only downsides of these headphones. Rechargeable is always better, and for a pair of expensive headphones, rechargeable is a must.
Product Page [Able Planet]