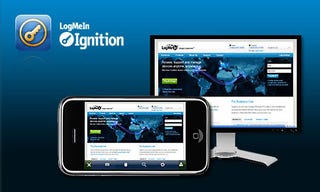 57% of LogMeIn Ignition for iPhone users surveyed report leaving their laptops at home at least half of the time, and accessing work computers using iPhones. Doctors, lawyers, mountain climbers and IT guys are ditching the laptops and traveling lighter.
Whether you're the IT guy troubleshooting a computer, an on-the-go pro accessing your contact database, or a healthcare provider looking up patient records, you can get the job done right from your iPhone. It's the essential app that lets you get to all of the programs and files on your PC or Mac, as if you were sitting right in front of it.
Get down to business with LogMeIn Ignition for iPhone. Now available in the iTunes app store.
And, see true stories of iPhone users who successfully used their iPhone and the LogMeIn Ignition app to stay connected. Get the eBook now.