Previously, Rick Santorum might've been winning caucuses but he was definitely losing Google. Back then, when one searched 'santorum' on Google, the top result would be "the frothy mix of lube and fecal matter that is sometimes the byproduct of anal sex." Haha. Funny. Now? It's been booted from the top spot. What kind of search engine witchery did you pull Google?
Google has said that it doesn't manually tinker with its search engine results, choosing instead to try and come up with a solution to solve the overarching problem. Google isn't motivated to remove the hilarious fake definition of santorum from the the top result but rather find out why it got there in the first place. So in the case of the 'definition of santorum' dropping a few spots in search results, SearchEngineLand speculates that it could be Google tweaking its algorithm to put more weight towards 'official' pages. That makes sense, right? Official pages should get a higher billing.
However, Google clarified with SearchEngineLand and said it's actually a result of a tweak to Google's SafeSearch. The SpreadingSantorum site was likely moved down a few spots because it's associated with explicit content and Google has been growing stricter with removing irrelevant adult content from all search queries, even if SafeSearch is turned off. The idea is that explicit adult content that comes up in a search for something like "rubber bands" usually isn't intended so it gets docked in the Google algorithm. A similar thing happened to the fake definition of santorum.
G/O Media may get a commission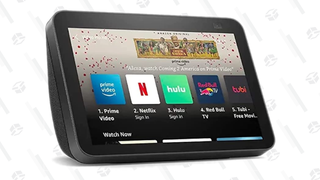 For what it's worth though, Bing is still showing Santorum as a frothy mix of lube and fecal matter as its top result. I knew I could count on you Bing. [Search Engine Land]