Each April first, Think Geek taunts us with their fake April Fool's Day products. While nothing will ever top the Tauntaun sleeping bag, this year's imaginary product list includes a big-mouthed Mon Calamari, an inflatable captain's chair, and the chance to smell like Daenerys Targaryen.
I'm convinced that the April Fool's Day products have been less a gag and more a market test to see which products the public will demand. So what will it be this year? I know more than a few people who would like Minecrat marshmallows in their Easter baskets, but that inflatable Enterprise chair would look great in my living room.
Edit: ThinkGeek emailed to let me know that the captain's chair is real. Excellent.
Star Wars Admiral Ackbar Singing Bass: Plays the cantina song and shouts "It's a Trap!" Sure to delight one person in the household and drive everyone else bonkers.
G/O Media may get a commission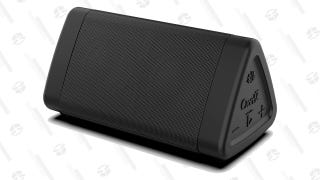 Save 31%
Oontz Angle 3 Portable Bluetooth Speaker
Star Trek Inflatable Captain's Chair: Maximum weight 120 lbs, so this one's only for the petite captains in your life.

Free Shrugs T-shirt: Because if you're giving it away, you might as well advertise it.

Minecraft Marshmallow Creeps: For people who prefer pixels to bunny ears.

Skyrim Electronic Dragon Shout Hoodie: Perfect for when you spot those pesky dragons overhead.

Technomancer Digital Wizard Hoodie: Lights and sounds let you pretend you're casting 10 different spells.

Game of Thrones Fire and Blood Perfume: Smell like Daenerys Targaryen with this dragon egg-shaped atomizer. Alternatively, you could bottle horse sweat.