It's been a year of recalls and "uncontrollable diarrhea" for Soylent and its fans. While such a big upset could theoretically inspire a startup to reevaluate and refine its existing products, Soylent continues to march forward—a recent listing on Amazon reveals two new flavors of the futuristic food just in time for the new year. Happy 2017!
As you may recall, Soylent ended up recalling its Food Bar a month after releasing it when Gizmodo reported that it was causing customers to have "uncontrollable diarrhea" and vomiting, sending some to the emergency room. Soon after, Soylent halted sales of the 1.6 version of its powdered formula after people reported similar symptoms. The company eventually concluded it was the high-tech algal flour in the bars and powder that caused the illness, and vowed to remove it from future products.
G/O Media may get a commission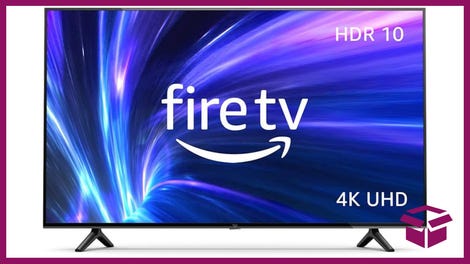 42% Off
Amazon Fire TV 50" 4K Smart TV
In the new year, Soylent will release two new flavors of its pre-bottled 2.0 formula, in Cacao and Nectar—a signal to the world that the company is not giving up.
Soylent 2.0 and its coffee-flavored version are the company's only products that have yet to be recalled, though a number of people have reported getting ill off the prebottled drink. r/Soylent is full of tales of 2.0-induced "constant watery diarrhea," "crazy body aches," and "the worst stomach pain, vomiting, and diarrhea" of a poor Redditor's "entire life"—and let's not even get started on the mold problem.
While the new products are already listed on Amazon, Soylent has yet to put out a press release or much information about its newest flavors. We've reached out to the company with some questions about the new flavors, and will update the post if we get a response. What we do know if that the Cacao flavor is "made with real Chocolate" and the Nectar flavor is "made for those with a sweet tooth," whatever that means.
Both formulas are made from "plant-based, with carbohydrates from beets, protein from soy, healthy fats from renewable algae sources." The company vowed to stop using algal flour in its product, so you could surmise the algae-based ingredients in the new drinks will be made from algal oil, currently in the 2.0 and Coffiest drinks.
Will these new flavors terrorize Soylent stans with more vomiting and diarrhea? Or perhaps it will usher Silicon Valley's 'solution' to food into an era of redemption. The new flavors start shipping in the new year, so we'll have to wait and see.