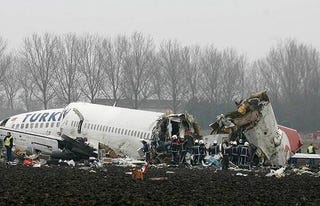 A Boeing 737-800 has crashed this morning at the Schipol Airport, in Amsterdam, breaking in three pieces. The amazing news: Only five out of 135 people are dead. Update: Some sources are reporting nine dead.
They weren't as lucky as the Hudson waterlanding passengers, but close enough. Apparently, the place was about to land when it all happened, according to passengers and witnesses on the ground:
We felt something odd was going on. The plane spun out of control and then we landed with a thud in a field and saw one of the engines break off. Everything happened so quickly within a few seconds, so we didn't even have time to panic.
While landing in a normal fashion, a situation such as an air hole took place and the airplane went out of control and crashed. Everything took place in a matter of 3-5 seconds. We landed on a field. The pilot had announced that the plane would land at the Schipol Airport in 15 minutes. We crashed after 7-8 minutes following the pilot's announcement.
Looking at the photos and the vide, it's amazing that there was no fire and only five were dead. Early witnesses reports point to the possibility of the plane stalling just when it was about to touchdown. [Telegraph UK and Times Online]