April is the coolest month — at least, judging from the stacks of astonishing science fiction and fantasy books being published right about now. There's tons of space opera, alternate history, crazy apocalypses, and much more. Here are 20 novels you can't afford to miss out on in April!
Peacemaker by C. J. Cherryh (DAW)
The 15th book in Cherryh's Foreigner series, and the end of the fifth trilogy. This series has been all about the interconnections between humans and the alien culture they're living alongside, and this installment is full of politics, action, conspiracy, assassination and tons of development of the Atevi culture.
G/O Media may get a commission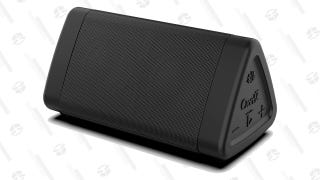 Save 31%
Oontz Angle 3 Portable Bluetooth Speaker
Afterparty by Daryl Gregory (Tor Books)
This near-future thriller about a world where we can use 3-D printers to manufacture mind-altering drugs at home (including Numminous, a dis getting rave reviews — seriously, just read this review that compares it favorably to Will McIntosh's Love Minus Eighty. That review also says, "Gregory blurs the line between medicine, science, technology, and religion, and asks readers to really look at just what we are doing with all we have access to." This book is at the top of my personal to-read pile.
The Revolutions by Felix Gilman (Tor Books)
It's an alternate-history version of 19th Century London in which mystics learn how to travel to outer space without leaving their drawing rooms. And magical societies go to war against each other. But Arthur just wants to follow in Conan-Doyle's footsteps and write awesome detective fiction. This NPR review makes it sound like a pretty badass read.
Deadroads: A Novel of Supernatural Suspense by Robin Riopelle (Night Shade Books)
This is a slow-but-suspenseful novel about a family on the Bayou who can see the spectral plane. But really, it's about adoption, and what it's like to wonder about your birth family and need to find out where you really came from. And dealing with your family's legacy. In this story, three members of the Sarrazin family have to come together and set aside their differences when one of their own is murdered.
The Word Exchange: A Novel by Alena Graedon (Doubleday)
This near-future novel in which language becomes a virus has gotten coveted starred reviews in Kirkus and Publishers Weekly. In the 22nd century, people don't have smartphones — instead they have something called the Meme, which communicates with your brain directly via electrical signals. And people have access to the Word Exchange, which will provide you with the right words in any social interaction for just two cents a word. There are reports of people suffering from Word Flu, which causes people to start speaking in gibberish, and some people warn that the Meme is rewriting everyone's neural pathways — but it doesn't seem that sinister until the editor of the world's last print dictionary disappears under mysterious circumstances. This book is being compared to Neal Stephenson and Max Barry.
What the Doctor Ordered by Michael Blumlein (Centipede Press)
Michael Blumlein's stories are often like a splash of cold water in the face, and he's one of the better kept secrets in science fiction today. This gorgeously produced collection of his stories might help to change that — just read this review by Paul Di Filippo in Locus, which says, "Emerging from Blumlein's new book is rather like being born all over again. The reader is bloody, beslimed and shocked, but the whole world looks as if it were just created."
The First Fifteen Lives of Harry August by Claire North (Redhook)
At first, this book's setup seems a bit similar to Life After Life — every time Harry August dies, he's reborn in the same time and place (and in the same body), so that his entire lifespan is a kind of Groundhog Day experience. Except that Harry remembers every detail of his past lives (literally, he's got an eidetic memory) and he's part of a secret society of these "Ourobourans." And the book starts with Harry on his deathbed in 1996, receiving a warning passed down from a thousand years in the future. The world is ending, which isn't such a big problem — the problem is, it's ending ahead of schedule. I'm about halfway through reading this book, and so far it's fantastic.
Shipstar by Gregory Benford & Larry Niven (Tor Books)
On the heels of their collaboration Bowl of Heaven, the masters of hard science fiction are back with a second helping, in which the group of humans sent to investigate a strange "shipstar" in space get separated — one group is captured by the aliens aboard the vessel, the other gets scattered across its surface. This is "massive object in space" fiction like nobody else does it.
XOM-B by Jeremy Robinson (Thomas Dunne Books)
Robots and zombies, in the far future. Boom. Done. The alien Masters have conquered the human race, and they unleashed a deadly virus to kill off billions of their human slaves — but the virus had the unexpected effect of turning people into murderous zombies, who are now swarming everywhere. Our hero is Freeman, a cyborg with a superhuman sense of smell (yes, really) who has to escape from the zombies and discover what went wrong.
The Adjacent by Christopher Priest (Titan Books)
This book has been out for ages in the U.K., but we're just now getting it stateside. And a new Priest book is worth shouting about. We featured an excerpt the other day from this book, in which the present day, the near future and the early 20th century intersect in a tale of stage magicians and superweapons.
Steles of the Sky by Elizabeth Bear (Tor)
The final volume of Bear's Eternal Sky trilogy sees Temur racing to defeat his usurping uncle. This conclusion got a starred review from Publishers Weekly, which called it "stellar" and said it "makes a rich contribution to epic fantasy's expanding borders of emotion and invention." Aidan Moher also says this book "proves that room remains in fantasy for fresh ideas, unique world-building, hearty characterization and high-stakes magic and warfare."
Irenicon: Book 1 of the Wave Trilogy by Aidan Harte (Jo Fletcher Books)
This appears to be another book that came out in the U.K. ages ago, but we're just getting it in the U.S. It's the start of a historical fantasy trilogy about warring families — and reviews praise the world-building, creating an alternate Earth where technology is more advanced but science never replaced natural philosophy, which has given rise to a kind of magic. Also, this is totally different than your standard epic fantasy, and if you can deal with a lot of slow set-up in the first half, then this may well be your cup of tea.
Lagoon by Nnedi Okorafor (Hodder & Stoughton Ltd)
The award-winning author of Who Fears Death is back with a novel in which a spaceship crashes off the coast of Lagos, Nigeria, and three strangers — a marine biologist, a soldier, and a hip-hop artist — find themselves brought together by the mystery. The three of them have to intercept an alien ambassador before disaster strikes, and meanwhile the story weaves in Nigerian myths and folklore, for an especially trippy experience. SciFiNow calls it "an ambitious novel that can be interpreted as a celebration of the ferocious life force of a city, a country or the wider human (and non-human) experience," while warning that it feels disjointed and we never bond with the three main characters. SFX says: "Spiky, evocative, with a slightly manic gleam in its eye, Okorafor's narrative approaches its subject from unexpected angles."
Peacemaker by Marianne De Pierres (Angry Robot)
Virgin Jackson is the senior ranger in Birrimun Park, the last natural wilderness on an Earth where all the resources have been used up, in the shadow of a huge megacity. But then her bosses bring in a cowboy to deal with drug-runners, and then there's a murder that appears to be supernatural in nature. As one reviewer puts it, this is a space Western that reads sort of like an urban fantasy. This story was originally a short story, and then a graphic novel, and now at last achieves text-novel status. And by all accounts, this Australian novel about the wilderness and the bizarre things that happen there is just downright weird.
Forest Ghost by Graham Masterton (Severn House Publishers)
After a whole Boy Scout troupe commits suicide in the forest, a borderline-autistic kid named Sparky is determined to find out what caused this to happen. And then Sparky realizes that his own grandfather committed suicide in the woods in Poland during World War II — so Sparky and his father travel to Poland to learn the truth about the forest ghost that drives people to kill themselves.
Dark Eden: A Novel by Chris Beckett (Broadway Books)
Hey, it's another British novel that came out ages ago in the U.K. — for some reason, that's a theme this month. And this Clarke Award-winning novel sounds honestly demented. It's set on a planet where humans colonized long ago, and now generations of in-breeding have led to a "Family" of humans with major genetic defects and degenerating intellect, struggling to hold onto the secrets of "lecky-trickity" and waiting for the return of the "Landing Veekle" from Earth. The Guardian called it "a superior piece of theologically nuanced science fiction."
Earth Star by Janet Edwards (Pyr)
The sequel to last year's Earth Girl follows Jarra, one of the few humans who's metabolically unsuited to live on other planets, and this time around she's being drafted to help deal with an unidentified alien sphere hanging over Africa. She has to help evacuate her fellow Earthbound people to caves and figure out the puzzle of this sphere — all while dealing with prejudice against her strange inability to visit other planets. This book got a coveted starred review in Kirkus, although Strange Horizons was more mixed.
Valour and Vanity by Mary Robinette Kowal (Tor Books)
This is the fourth in Kowal's series of books about Regency magic, but it's also a bit of a change of pace. This time around, Jane and Vincent are attacked by Barbary pirates and narrowly escape being enslaved — so they have ot figure out how to get their money back. Which means one thing: a heist! You can read an excerpt here.
The Goblin Emperor by Katherine Addison (Tor Books)
This epic fantasy novel has a killer premise — the Emperor and his three sons are killed, which only leaves one heir to the throne: Maia, the half-goblin son that they always kept hidden away and mistreated. So of course, the completely unprepared and widely loathed goblin kid has to figure out how to survive court intrigue and the complexities of ruling, or risk losing his throne. This novel, written by Sarah Monette under a pen name, has been getting upbeat early reviews.
Sources: SF Signal, Locus, Amazon.com, publishers' catalogs