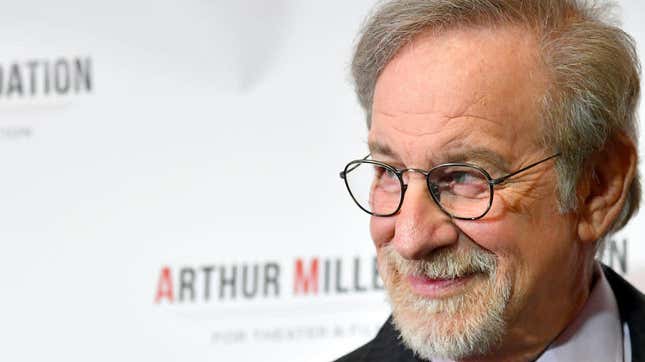 There's been tons of news about "Quibi." But, uh, what is Quibi? It's a streaming service (yes, another one) launching in April that will be filled with content in "Quick Bites"—long-form stories released in chapters that run under 10 minutes, basically optimized for mobile viewing. And it's got some very big names on board.
Boogeyman Star Sophie Thatcher Wrote Howl's Moving Castle Fan Fiction | io9 Interview
The list of people and projects coming to Quibi so far is incredible. But, we're a sci-fi site, so below we've gone ahead and compiled a list of all the sci-fi, horror, and fantasy projects coming to the streaming service.
An anthology show from Sam Raimi called 50 States of Fear, which will focus on a scary story from all 50 states. The cast is star-studded.
A modern zombie story from Guillermo del Toro.
A Steven Spielberg-produced horror show that you can only watch when it's dark out.
CURS_R, produced by Ridley Scott, about a gamer who realizes the game they're playing isn't just a game.
Don't Look Deeper, starring Don Cheadle and Emily Mortimer, about a teenager who feels that something isn't right about her. And she's correct. She's an alien.
Crazy Talented, from Edge of Tomorrow director Doug Liman, about a group of psychiatric patients who are led to believe they are superheroes fighting an evil villain.
A Liam Hemsworth-Christoph Waltz action series where Hemsworth plays a man hunted for money.
Slugfest, a documentary series produced by the Russo Brothers, about the Marvel vs. DC rivalry.
Wolves and Villagers, a twist on Fatal Attraction starring Naomi Watts and produced by Jason Blum.
Cousins Robbie Amell and Stephen Amell co-starring in Code 8, a sci-fi drama about a world where superheroes are persecuted. It's a movie and this is a spin-off.
Wireless, conceived by Steven Soderbergh and starring Tye Sheridan, about a man trapped in his car who has to use his phone to get out. Andie McDowell co-stars.
Transmissions, a show about a scientist who starts getting mysterious radio signals from space.
Last American Vampire, which follows a female FBI agent who is paired with a 500-year-old vampire.
Survive, which stars Sophie Turner and Corey Hawkins as plane passengers who must survive after a crash.
One Night Forever, about a college student who falls in love with an alien on the night she's supposed to be writing her thesis.
An adaptation of the James Patterson novel Toys, set in a world where genetic modifications further increase the gap between haves and have-nots.
The Monarchy is Going to Shit, a modern fantasy comedy, set in a kingdom where twin princesses find out they have a brother who is the rightful heir to the throne.
Life-Size Toys, a stunt show in which a group called Nitro Circus will take classic toys and make them lifesize in order to do stunts with them.
Emma, a horror series starring AnnaSophia Robb, about a girl who mysteriously becomes pregnant. Mira Sorvino and Rory Culkin co-star.
Unmatched, a dystopian comedy about a world where everyone is matched to their soulmate via a dating app, but a few people choose not to use it.
Yet another adaptation of Henry James' supernatural thriller Turn of the Screw, this one from Under the Dome producer Alexandra McNally.
Tomie, a live-action adaptation of the Japanese manga series directed by Alexandre Aja, about a missing high school girl that spawns a larger mystery.
And that's just the genre stuff. There's so, so, so much more. Here's a not-so-quick run down of everything else...so far:
Punk'd and Singled Out remakes; a Reno 911 reboot; Anna Kendrick and a sex doll in Dummy; an Idris Elba car stunt series; a Kevin Hart action comedy series called Action Scene; a Tyra Banks beauty series; Mapleworth Murders, which is a murder mystery series from SNL EP Lorne Michaels; a star-studded remake of The Fugitive; The Now, a comedy series from the Farrelly Brothers starring Bill Murray and Dave Franco; a musical comedy series starring Darren Criss and directed by Amy Heckerling; a reality show staring WWE women superstars; a workplace comedy from Thomas Lennon; and an Uber-driver thriller called The Stranger from the creator of The Killing.
Want more? There's also a drama from the creator of Vikings called Charlemagne; a Titus Burgess-hosted cooking show; a home improvement spoof starring Will Forte and Kaitlin Olson; When the Street Lights Go On, which is a murder mystery starring Queen Latifah; a Ron Funches-hosted game show; a reboot of How to Lose a Guy in 10 Days; an all-women prank show hosted by Cara Delevingne; a new Eric Andre show called Rapper Warrior Ninja that mixes rap battles and American Ninja Warrior; a comedy series about Nicole Richie's rapping alter-ego; a remake of the football movie Varsity Blues; Killing Zac Efron, which will see the star doing his best Bear Grylls impression; a remake of the show biz comedy Swimming with Sharks; a travel show starring Joe Jonas; an Andy Samberg-hosted cooking show; a Gabrielle Union-produced comedy show called Black Coffee; a Trevor Noah show; a comedy produced by Paul Feig and Dwayne Johnson; a gritty crime drama from director Antoine Fuqua...and a whole lot of news shows catering to all kinds of tastes.
That's, undoubtedly, a lot of original content. The question with all of it though is whether or not younger audiences, who are obviously the target audience here considering the format, will embrace it. We'll find out on April 6, 2020, when Quibi launches. It'll cost $4.99 per month with ads, $7.99 per month without.
---
For more, make sure you're following us on our new Instagram @io9dotcom.