Shane Black denies those latest Predator rumors. Jeremy Renner teases what's to come in Avengers: Infinity War for Hawkeye. Get a tiny tease for the new Valerian movie. Plus, tons of clips from Fantastic Beasts, and Bruce Campbell talks Ash vs. Evil Dead. Spoilers Now!

Predator
Contrary to recent reports, Shane Black has reached out to Collider to categorically deny that the film is set in suburbia.
---
Avengers: Infinity War
Jeremy Renner promises "real exciting stuff" for Hawkeye in the movie:
If I knew anything, I still couldn't tell you, but I don't know anything about it. I know there's Infinity War - Avengers 3 & 4 happening. I mean, I don't know anything outside of my involvement.

I can't tell you. What if I'm dead in the first one? I don't know. I might already be dead.

I know they're writing it [the script], and I know the talks of what it's about sounded fantastic. There's some really great ideas, and they are following certain parts of Infinity War. It's some real exciting stuff for lots of characters, especially for what they're thinking of doing with Hawkeye.
---
Resident Evil: The Final Chapter
Thank god, there's only one more day we can get election-themed adverts like this one urging you to "Vote Alice."
---
Fantastic Beasts and Where to Find Them
Here are more new clips from the film than you can shake one of Mr. Scamander's many (presumably fantastic) beasts at. There's even more at the link. [Comicbook.com]


---
Rogue One: A Star Wars Story
Lucasfilm has released a new "fact file" for Jyn.
G/O Media may get a commission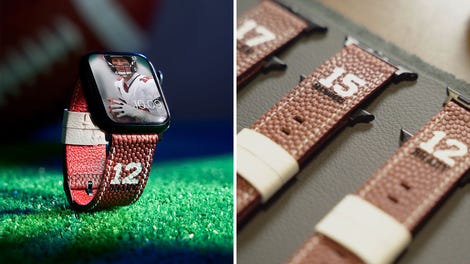 Official NFL PRODUCTS
Official NFL Apple Watch Bands
---
Jumanji
Dwayne Johnson has shared a bunch of new images from the shoot to his Instagram account:
---
Valerian
Here's a very teeny snippet of footage from the film to promote the impending release of the first trailer.


---
Supergirl
A new synopsis released by the CW for "The Darkest Place" seemingly confirms that Cyborg Superman—who was one of several Supermen who took Kal-El's place after his death at the hands of Doomsday in the comics—will actually be appearing on the show:
While Guardian (Mehcad Brooks) tries to clear his name after being accused of a murder committed by another vigilante, Supergirl heads out on a solo mission to rescue Mon-El (Chris Wood) who has been captured by CADMUS. While fighting to free Mon-El, Supergirl comes face to face with Cyborg Superman.
In the comics, Cyborg Superman's alternate identity of Hank Henshaw, the name being used by Martian Manhunter on the show, so it'll be interesting to see how that plays out.
Meanwhile, Kara and James get roughed up in a new clip from tonight's episode, "Crossfire."
---
Legends of Tomorrow
Greg Berlanti briefly teases the show's villain team-up for EW:
It's the ultimate bad guy team-up. We just finished the script for an episode that we've been tentatively calling 'Legion of Doom' that's all from the bad guys' perspective.
---
The Flash
Caitlin's powers unleash her dark side in the synopsis for "Killer Frost."
Caitlin uses her powers to save Barry but as her mother predicted, the effort unleashes her inner Killer Frost. Killer Frost goes on a rampage looking for Dr. Alchemy, kidnapping Julian (Tom Felton) and battling both The Flash and Vibe. Meanwhile, Joe and H.R. (Tom Cavanagh) have a heart to heart talk.
---
Ash vs Evil Dead
And finally, Bruce Campbell waxes lyrical about the 1973 Delta's appearance in the show.
---
Additional reporting by Gordon Jackson. Banner art by Jim Cooke.