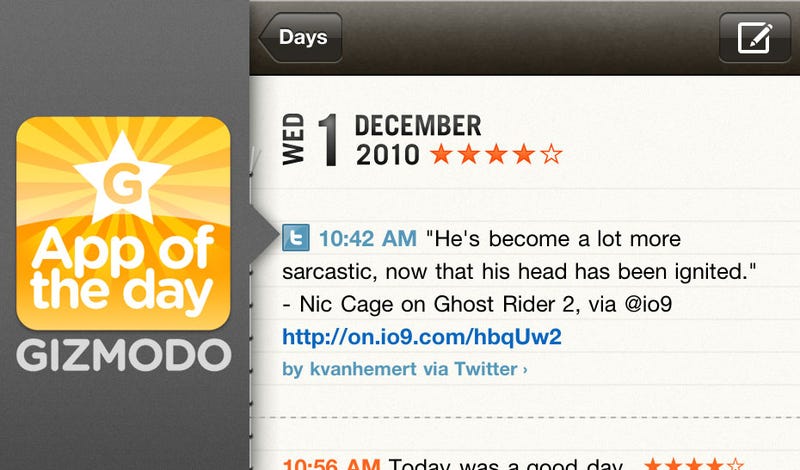 Apps are what really make our devices shine, so we're going to start highlighting one we love right here, every day. Today's App of the Day: Momento, a beautiful journal for your iPhone.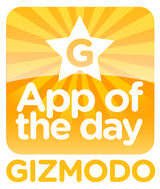 What is it?
Momento, iPhone, $3. A handsome journaling app for chronicling all your observations, musings, and internet activities throughout the day. You can jot down notes, snap photos, or automatically pipe in a variety of feeds (Twitter, Flickr, Facebook, etc.), all of which are organized neatly and can be viewed by day, month, tag, and the like.
Who's it good for?
People who like the idea of keeping a journal. Or people who wake up and say, "what the hell did I do yesterday?" Or people who have anxiety about the general transience of the internet age.
Why's it better than alternatives?
It's gorgeous, which is important for the act of journaling (no one faithfully dictates their innermosts secrets to the back of a napkin); it just got a huge update adding support for a ton of new feeds, a landscape keyboard, better export options, and more.
How could it be even better?
For something like this to really root itself into my life it needs to sync to the cloud—either to a Momento site or just push out one way to a Google Doc or something. It also could stand to load a little snappier (gotta capture those fleeting insights) and would probably benefit from a universal search once those moments start piling up.
You can grab Momento in the App Store for $3.
For more apps, check out our weekly app roundups for iPhone, iPad, and Android
Video music: Kevin MacLeod