It's official, Apple's dropping $3 billion on a headphone empire. But more than a blockbuster headphone brand and a promising streaming music service, Apple is getting two of the smartest music and entertainment minds in the world. Dr. Dre and Jimmy Iovine work for Apple now, and that's a potentially revolutionary combination.
Beats by Dre was founded in 2008, and in that time it has grown into a spectacularly huge business that moved more than $1 billion in sales last year alone. But that's just the latest success for two careers that have seen decades of creative and financial triumphs. Dr. Dre is amongst the most important and bestselling hip hop performers in history, to say nothing of his skills as producer, record label owner, and talent scout. He hasn't just done it once—he's done it about four or five times. First, as a member of NWA, then as a solo performer who collaborated with and launched the career of Snoop Dogg, after which he jumpstarted Eminem, and only then made his best record, 2001, one of the greatest comeback albums of all time. And he's still got it: Last year, Dre executive produced Kendrick Lamar's fabulous Good Kid, M.A.A.D City.
Jimmy Iovine is no lightweight either. He started his career as an engineer on records by everyone from Bruce Springsteen to John Lennon and clawed his way up through the ranks until he was a top flight producer. Then he founded Interscope records one of the last great huge labels to crop up before digital music dismantled the Traditional Business Model. In the early 2000s when most execs in the recording industry were pretending digital piracy would just go away if they sued enough people, Iovine was trying to find ways to make money online. He's always been a bit ahead of the curve, and as Tim Cook notes, Iovine was an early supporter of iTunes. (Oh, and he was friends with Steve Jobs.)
Beats is a successful business, but it's just one small example of what Dre and Iovine are capable of building. It's not a traditional music business; it's one that uses the cachet of an artist to sell other products. In a world where album sales are increasingly elusive, it's a smart business move. Content online, and most of all music, is in need of serious innovation. How many successful music companies have cropped up in the last decade, let alone successful music companies that can command the price tag Beats just reeled in?
Jimmy and Dre—their new official job titles—could help Apple evolve and develop its already first-rate media business into a goliath by tapping into new markets and dreaming up new possibilities. Apple has had a good run with iTunes, but signs increasingly suggest that the store won't keep up its decade-long run forever. So far, that media business has been mostly all about selling people music, but as Beats has proven, there's a lot of money to be made down other roads. Apple has always hired people who can see the future, and there are no two music oracles more creative than Dr. Dre and Jimmy Iovine.
G/O Media may get a commission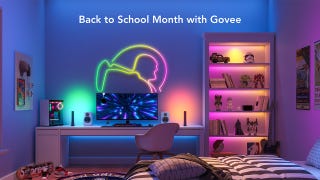 Back to School
Back to School Month with Govee Sale
Who knows what Apple and Jimmy and Dre are planning? Who cares? The only certainty that matters is that none of them fails very often.