Click to viewIt's real. The fabled MacBook Air actually exists. It's ultra-thin, can have a normal hard drive or a solid state one and, except for a couple ports, it's all about wireless connectivity. It's a stunning .16 inches thick at the bottom and .76 inches on the top. The black keyboard (reminds me of some of those black-over-aluminum Braun designs) is LED backlit, sightly recessed MacBook-style, with rounded edges all around. The latch is magnetic and has a gorgeous 13.3-inch screen with ambient-light sensor and, get this, multitouch trackpad. Check the full specs, 20-image gallery and continuous updates after the jump:


G/O Media may get a commission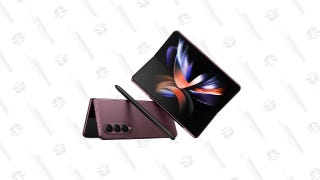 Save Up to $300
Galaxy Z Fold4
The MacBook Air is all "green": bromide and PVR free, packaging is 56% smaller and mercury and arsenic-free glass. Looks like Al Gore will be getting one to fly in his private jet.
Amazingly enough, it's only $1,799.
Technical specs
• .16 to .75-inch thickness on top

• 12.8 x 8.94 inches

• 3 pounds

• 5 hours of battery life with everything running
• Intel Core 2 Duo Processor at 1.6 or 1.8GHz, motherboard the length of a pencil.

• 800MHz frontside bus.

• 2GB RAM 667MHz DDR2 standard.
• 13.3-inch screen, LED backlit.

• 1,280 x 800 pixels

• Micro-DVI adapter (for DVI, VGA, composite and S-Video output)

• Intel GMA X3100 Graphics processor with 144MB RAM shared
• 1.8-inch 80GB HD or 64GB Solid State Drive (no moving pieces, but for a stunning $1,300 price increase!)

• Multitouch trackpad with gestures. Pans, zooms, rotates, etc.

• 802.11n and Bluetooth 2.1.

• Optional external HD for $99, USB-bus powered.

• Full backlit keyboard.

• One USB 2.0, one audio port, one Micro-DVI
[Apple]