When Steve Jobs' Keynote starts, our updates will be live from this permalink. Hit the jump and then refresh like you're playing Megaman with a turbo joypad, as updates will come every 30 seconds or so.
11:26 - Well, thanks for reading. We'll have lots more updates on what was talked about today. Even though we're all disappointed on the lack of "OMT". Whew! That was fun!
11:25 - Yup, looks like no "One More Thing" this time. It's the end.
11:24 - Leopard shipping this Spring. What? No one more thing?
11:23 - Summarizing the 10 apps. The developer preview is in hands of devs today.
11:21 - iChat Demo over. Just 10 of the new features in Leopard. iCal is going full multiuser. Using Caldev standard.
11:20 - It can do video as backdrops. Showing a guy in hawaii and one in times square. Three way chat.
G/O Media may get a commission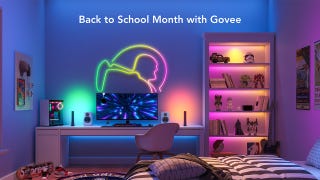 Back to School
Back to School Month with Govee Sale
11:19 - Video's slanted to the side, like on the 3 way iChat photo everyone knows about. Video has reflectivity off the bottom.
11:18 - A video demo of iChat Theatre. Streaming video over video chat. Looks pretty damn good.
11:17 - iChat Threatre demo now. Shows keynote presentation as a backdrop as well.
11:15 - iChat Theatre! You can show iPhoto slideshows when talking. Backdrops. Photobooth effects being shown.
11:15 - He wants to take it further. Photo booth effects for video conferencing, like on Logitech and Creative webcams.
11:14 - Next item, seriously enhance iChat. Multiple logins, invisibility, animated buddy icons, video recordings for cybering, tabbed chats (tabs on left).
11:13 - Boring stuff now. Brian wishes he could go pee, but his mom taught him when he was 23 to use a toilet instead.
11:11 - Has a theme that shows it can be bordered like a photo. or Frayed edges like something torn from a book. Click on it, opens in safari.
11:09 - Showing how to layout the web page widget now. Drag and drop and crop. Easy. And then somehow with magic it will update.
11:09 - Webclip. Anyone can take any part of a website and turn it into a widget. So, weather, or a comic strip. Kind of like windows active desktop.
11:08 - It's a graphical tool for html and css. Javascript debugger.
11:06 - Dashboard now. Over 2500 widgets so far. (None of which work on your desktop, heyo!) Dashcode, a dev kit with templates for making widgets.
11:05 - Doing a todo demo. Squash all leopard bugs, make sure leopard gets done on time. Fire the guy who made iPhoto crash. Turning a note into a todo.
11:04 - You can take photos from iPhoto to make stationery. Doing a todo demo with notes now.
11:02 - Mail.app, new templates. Invites, dinners, dates. Lots of stationery and ecards.
11:00 - Todo is a systemwide service. You can take anything anywhere and make it into a todo.

10:59 - Notes, use Inbox as a notes organizer. Looks like stickies. Font and background. Shows up as notes in Mailbox. Cannibalizing iCal a bit. Take any note, select something, and make it a todo. Or read anything in a mail message, make it a todo.
10:58 - stationary, looks like airmail...html email. (so this is what outlook had 6 years ago). You can make your own stationery . Lots of templates. Looks pretty.
10:56 - Next up. Changes to Mail.app. Todo and stationery and notes.
10:54 - "Voiceover". Text to speech. Reading some text. Sounds pretty good.
10:51 - Core animation. Implement core animation into your apps. Easy to use for developers. Enhance your apps.
10:49 - Spotlight, you can search other machines if you have permission to. It's "even better" than previous. Took feedback from devs, improved search. Added recent items to spotlight making it a better launcher.
10:48 - Fanboys having multiple O's. "Spaces" is built into Leopard.
10:47 - It's like expose. You can drag apps between the desktops when you zoom out.
10:45 - New feature called "Spaces". Virtual desktops. Make different spaces for different apps to work together. Virtual desktops, been around forever on Linux/Unix and they're hyping it up. Four different desktops for all your apps. Jump between them and see all of them.
10:44 - Ships with front row on all machines. Next generation of phtobooth.
10:42 - New iPhoto coming. Talking about beta apps. It's a "complete package". Lots of extra software in Leopard. Boot camp ships with Leopard, full version.
10:41 - Guy turns red, says he wishes he could go back in time so that didn't happen.
10:40 - Shows a starry background with address book. It can back up your contacts...AND IT FROZE.
10:39 - Sounds like between this and spotlight, it's going to suck up your system resources.
10:38 - Gives you an exact copy of your computer at a day you choose.
10:37 - Starry background. Endless stream of windows, stacked. You can go back in time, timeline on the right hand side. Time machine. Scroll back on date.
10:36 - Doing a demo of Time Machine. (First get up to 88 miles per hour!)
10:35 - Time Machine automatically backs up everything. As soon as a file is changed, it backs it up. Restores everything. Per file. Sounds like it takes up a lot of space. Can back up to HD or server.
10:33 - Everyone says "backup", but who backs up? 26%?
10:32 - New App/feature. "Time Machine" it's something to do with backing up so you don't lose your photos.
10:31 - Support for 64 bit apps. Run 32bit side by side with 64 bit. 64 bit at Unix layer.
10:29 - Leopard. Says there are features he can't talk about yet. Can talk about 10 major things.
10:28 - Still trash talking Windows. DLL Hell, Product activation.
10:27 - Comparing Windows Mail vs Mail.app. iCal vs. Windows Calendar. Says Windows Cal "doens't get the colors quite right".
10:26 - Showing screenshtos of Vista and how they're copying what Tiger has. Spotlight for example. IE7 looks like safari, they say.
10:25 - Shit talking Windows. "What have they done over the last 5 years?" "Redmond - start your photocopiers" Reused that joke.
10:23 - 86 million lines of source code converted from power pc to intel. 0 hiccups. Boring stuff. 3,000 universal binary apps already, more apps being announced thsi week.
10:23 - Onto software. Leopard. 19 million OS X users.
10:21 - Built to order. Up to 1 million configurations. MacOSX Server unlimited license.
10:20 - Dual 2.0 Xeon. $2999. Lights out management is what the LEDs are for. 80GB SATA, 1GB 667MHz DDR RAM.
10:19 - Dual Xeon processors. Smaller chip, 1U footprint. IT nerds go wild. Performance similar to mac Pros.
10:18 - Entirely new Intel XServe. LEDs on front, probably configurable for something.
10:18 - Intel updates all complete. Ships today.
10:17 - Goes up to 3GHz, up to 16GB of memory (up from the measly 256MB default), graphics card Radeon X1900 and FX4500. Bluetooth and Airport.
10:15 - Two 2.66 GHz chips. 256MB of RAM, Superdrive, $2,499.
10:14 - One configuration. Looks the same as the old models on the outside. Inside has a new design.
10:13 - Up to 2TB of internal storage. Big space in the case for Video Cards.
10:12 - Four HD bays, two optical bays. Four PCI Express slots.
10:11 - It's 3x as powerful as a Xeon. Each Mac Pro has TWO of these processors. 1.6 to 2.1 faster than the G5 Quad.
10:10 - The mac Pro has a Core 2 Duo, Woodcrest processors. Available up to 3GHz. 4MB shared L2 Cache, 128 bit vector engine, 64 bit processing power.
10:08 - The PowerMac is saying its goodbye, being replaced by the Mac Pro!
10:06 - They've shipped 1.3 million macs, with 3/4 of those being Intel-based. 50% of purchases were new to the Mac platform.
10:03 - Jobs takes the stage, talking about their 4200 registered attendees, best wwdc ever. Best quarter ever with 17 million visitors to the stores.
10:00 - It's starting!
9:58 - The Apple store is offline. Wait, is there something going on today?
9:54 - That jabbly chat is sucking up all our CPU we're getting off of it.
9:52 - It looks like one of the announcements is going to be VMWare Beta for the Mac.
9:30 - 30 minutes until showtime. Lam's getting antsy in the pantsy.
9:19 - Brian sees a lot of Japanese journalists with cameras.
9:12 - Don't forget to bookmark this page!
9:06 - T-minus 54 minutes! Are you excited? We're excited!