Phillip Shoemaker is Apple's director of applications technology. He's the man in charge of Apple's capricious, often-contested App Store approval process. He also has a side business selling fart and urination apps in that very same App Store.
Shoemaker's other source of income was brought to light by Wired's Brian X. Chen, who found that Shoemaker sells apps under the name Gray Noodle. Among his creations: iWiz, a pee simulator in which iPhone users can "simulate urination: faster, slower, or just a trickle," and Animal Farts, in which you can trigger sound effects for "fart," "poot," "drop," and "wiz."
An Apple spokesperson said that Shoemaker's apps were written and approved for the App Store before he was an Apple employee, though Chen points out that three of Gray Noodle's seven apps, including iWiz, went live in the App Store after Shoemaker tweeted about working at Apple on March 9, 2009. Typically, Apple employees are forbidden from publishing apps in the App Store without special permission.
The spokesperson also said that Shoemaker's "perspective as a developer is one of the valuable things he brings to Apple's developer relations team."
G/O Media may get a commission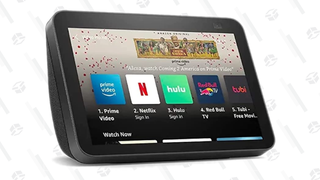 While Apple has no rules banning fart apps from the App Store, it has cast a wide net banning titillating apps—their definition of titillating is one that is hazy and ever-changing—and Steve Jobs himself has announced his vision of Apple offering customers "freedom from porn." It's hard to imagine he'll be thrilled about these scatalogical diversions developed by top-ranking employees of his own company coming to light. [Wired]