Three years to the month that Archie was radically re-invented with a hip, modern style, Riverdale's finest is in for some changes again. And one of those changes is bringing with it a new creative team, in the form of Nick Spencer and Marguerite Sauvage. Plus, new television projects are in the works.

Announced through the New York Times today, this week's Archie #32 will herald the end of Mark Waid, Ian Flynn, and Audrey Mok's tenure on the series—bringing to a close Waid's three-year run as the writer on the re-imagining. After a catch-up issue in October, the numbering of both the original Archie series (which concluded with Archie #666) and the reboot will be combined to make Archie #700's debut in November extra special.
Not much has been said just yet of Spencer and Sauvage's plans for Archie, although a comment provided by the Secret Empire writer promised to up the soap opera, Riverdale-ian drama of the book:
Archie Comics has a long, proud history. I don't want to blow things up or do anything that would upset the long-term audience. It's more like finding some conflicts that have some stakes, upping the drama level a little bit.
G/O Media may get a commission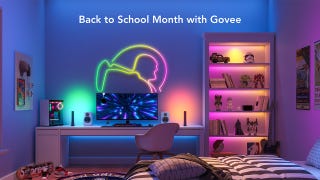 Back to School
Back to School Month with Govee Sale
But otherwise, this will seemingly be less of a radical upheaval than the 2015 reboot, and instead, a continuation of what made that change so successful in the first place. As well as the launches of Archie #699 and #700 in October and November, the shakeup will bring with it a new Betty and Veronica series as well. No artist has been confirmed yet, but Betty & Veronica: Vixens writer Jamie L. Rotante will pen the series, starting in December, which sees the iconic duo enter their senior year at Riverdale High, navigating a stressful life of exams, internships, and college applications.
Between the successes of Archie's relaunch and the dramatic cheesefest of Riverdale on the CW, it's a big time for Archie Comics.
But the NYT interview teases a few more non-comics projects in the works too: two animated series, one focusing on Archie and his friends, and another adding a horror twist to Josie (of "and the Pussycats" fame); and a live-action mystery show based on Archie's classic Sam Hill, Private Eye. These are in addition to the previously announced The Chilling Adventures of Sabrina live-action show coming to Netflix this year.

Things are going to get busy in Riverdale, it seems. Archie #700 launches this November.