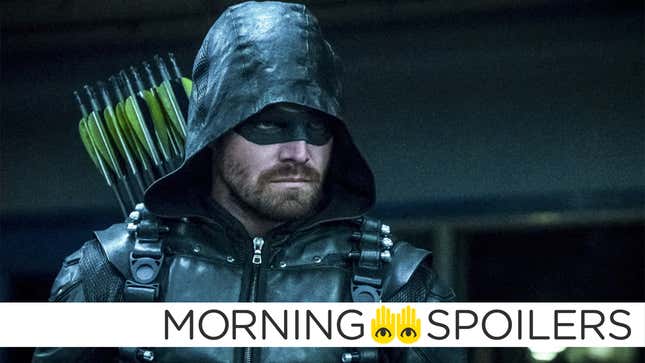 Duncan Jones discusses the Prez movie that was never to be. Carol Danvers gets her '90s looks on in new Captain Marvel set pictures. Black Panther's composer is heading to Venom. Plus, a sneak peek at Yo-Yo's new upgrade on Agents of SHIELD, and new footage from Incredibles 2 and Riverdale's musical episode. Behold, spoilers!

Meet Microsoft's New Surface Laptops

Prez
Duncan Jones tweeted he has reached out to DC Entertainment's film department to probe interest in an adaptation of Prez, the 1970's comic book series about the first teenage President of the United States (and revived for another take in 2015). According to Jones, "They didn't even know they had it".


---
The Tommyknockers
THR reports horror master James Wan is slated to direct a film adaptation of Stephen King's The Tommyknockers.
---
E.T. 2
In a recent interview with ET (the website, not the extra-terrestrial) Drew Barrymore stated there will never be a sequel to E.T.
Nope, we're never going to make a sequel, it's just as it is. That was his [Steven Spielberg's] philosophy, so who was I to question it?
---
Gambit
Omega Underground reports Gambit's latest production start date is June 19. A director should be announced soon... probably. Hopefully.
---
Ant-Man & The Wasp
The Italian website Bad Taste reports Ant-Man & The Wasp is entirely re-filming its opening action sequence set in South America as part of planned reshoots.
---
Venom
Black Panther composer Ludwig Göransson has been hired to score Sony's Venom. [Deadline]
---
Captain Marvel
Everyone's wearing torn jeans and faded denim—like all good fashion icons of the '90s— in the latest set photos from Captain Marvel.


---
Incredibles 2
The Incredibles join forces under one roof to face the challenge of everyday life in a new TV spot.


---
Arrow
Caity Lotz revealed on Twitter she's returning to Arrow for its sixth season finale, and did so in true Arrow style by attaching it to an image of... well, lots of abs:
If that wasn't intriguing enough, Stephen Amell also revealed Collin Donnell is set to reprise his role as Tommy Merlyn for a flashback a few episodes earlier.
---
Beyond
Sad news: Freeform has officially canceled Beyond after two seasons. [TV Line]
---
Westworld
Pacific Rim's Rinko Kikuchi has joined the cast of season two as Akane, a geisha from the show's new park, Shōgun World. You can spot her briefly in the new trailer, which we conveniently broke down for you here. [Entertainment Weekly]
---
The Purge
Deadline reports Amanda Warren and Colin Woodell have joined the cast of The Purge. Warren will play Jane, "a dedicated and hardworking finance professional who is convinced that she's hit an insurmountable glass ceiling at her firm, so she hires a Purge-assassin," while Woodell plays Rick, a career-climbing Purge enthusiast described thusly:
After a lifetime of bootstrapping, he finally is climbing the social ladder. But currying favor with the pro-Purge elite presents unexpected challenges to his marriage, as he and his wife must agree on what moral price they'll pay to achieve the American dream.
---
Agents of SHIELD
Yo-Yo finally gets her cool, bionic arms in a new photo from IGN.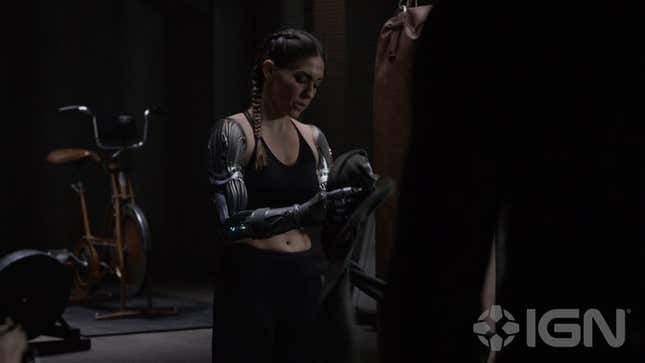 ---
Black Lightning
KSiteTV has images from next week's episode, "Black Jesus: The Book of Crucifixion." More at the link.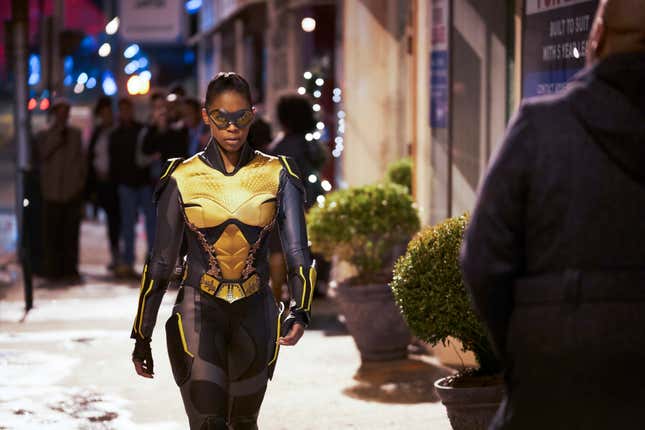 ---
Fear the Walking Dead
It feels like there are more zombies in AMC's latest promo for Fear the Walking Dead than its previous three seasons combined.
---
Riverdale
The CW has finally released a promo for Carrie: The Musical, with a side order of your usual Riverdale drama.
---
A Series of Unfortunate Events
Finally, Netflix has released a star-studded clip from season two of A Series of Unfortunate Events, just in time for today's release.
---
Banner art by Jim Cooke.