WSJ reports that AT&T's flagship Android phone, the Motorola Atrix, will be available March 6 for $199 with a two year contract. But they say you'll be able to get the crazy-ass laptop dock for just $300 more. Kinda. Updated.
That's pretty cheap, all things considered. The phone itself is pretty beastly—dual-core processor (both 1GHz), 1GB RAM, giganto 1900mAh battery—and the laptop dock effectively turns it into a 11.6" netbook with a full keyboard and trackpad.
WSJ says presales will start February 13.
Update: AT&T has confirmed the WSJ's report in a press release. But it's not the whole picture. The $500 laptop bundle only is available to those who get the Data Pro plan and the tethering add-on (and that's after a $100 rebate). If you opt to buy the laptop dock later, you'll have to pay $500. But that probably ends up being the cheaper option when you consider that getting the tethering plan locks you into paying $20 a month for 24 months.
G/O Media may get a commission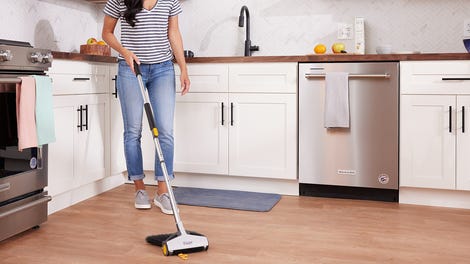 BOGO 50% Off
Flippr - BOGO 50% Off
So effectively the laptop dock is $500 bucks, for which price you could buy a real laptop, an iPad, an Android tablet, or, as Matt pointed out, like 50 Mast Brothers chocolate bars.
The Entertainment Access Kit, which comes with Moto's HD multimedia dock, a remote, and a Bluetooth keyboard and mouse, will run $190.
AT&T Announces the World's Most Powerful Smartphone, the Motorola ATRIX 4G, Will Be Available for Preorder on Feb. 13

Unique line of Accessories, Including the Motorola Laptop Dock, Available with Bundled Pricing
DALLAS, Feb. 3, 2011 /PRNewswire/ —
Key Facts

AT&T* begins pre-sales for Motorola ATRIX™ 4G on Feb. 13
Motorola ATRIX 4G, powered by the Android 2.2 platform, available exclusively for AT&T customers for $199.99 with a two-year service agreement.
Motorola ATRIX 4G is expected to be available from AT&T and select retail channels for customers by March 6 or earlier.
AT&T will offer bundled pricing for the Motorola ATRIX 4G and the Motorola Laptop Dock.

4G Portfolio
AT&T is the leader in smartphones, and expects to widen that lead in 2011. In January, AT&T committed to an industry-leading Android portfolio in the U.S. in 2011 and said it plans to offer two 4G smartphones in the first quarter. An industry first, the Motorola ATRIX 4G is the leading edge of more than 20 advanced, 4G devices AT&T plans to deliver in 2011. AT&T has completed the deployment of HSPA+ to virtually 100 percent of its mobile broadband network, which enables 4G speeds when combined with enhanced backhaul.
Motorola ATRIX™ 4G
The Motorola ATRIX™ 4G Android 2.2 smartphone will be offered exclusively by AT&T and is the world's most powerful smartphone. Featuring a 2x1 GHz dual-core processor for a total of 2 GHz of processing power, a unique webtop application, the world's first qHD display, and Adobe flash player, the, ATRIX 4G delivers a remarkable combination of application processing power with 4G speed capability and a high-resolution qHD display, a first for the industry.
It will be complemented by breakthrough accessories that include a revolutionary, super-thin Motorola Laptop Dock — for which ATRIX 4G is the "engine" — and the Motorola HD Multimedia Dock that uses ATRIX 4G's HDMI video output capabilities and processing power to enable a revolutionary browsing, application and media experience.
AT&T will offer two special packages for customers who choose to purchase ATRIX 4G in addition to these unique accessories. The first combines ATRIX 4G and the Motorola Laptop Dock for a promotional price of $499.99 after a two-year service contract and $100 mail-in-rebate after subscription to Data Pro smartphone data plan and tethering add on. Customers who choose to purchase the Motorola Laptop Dock separately pay $499.99. AT&T is also offering an Entertainment Access Kit for ATRIX customers which includes the Motorola HD Multimedia Dock, a Bluetooth® keyboard and mouse, and a remote control for $189.99.
Motorola ATRIX 4G will also include AT&T Mobile Hotspot service built into the smartphone, allowing users to connect additional Wi-Fi-enabled devices.
AT&T U-verse® TV customers will be able to manage their DVR recordings - and U-verse customers with a qualifying TV plan can download and watch hit TV shows – right from their ATRIX 4G handset using the U-verse Mobile application. In addition, any ATRIX 4G user, whether or not they have U-verse TV at home, can still enjoy a variety of video options - including live TV - with the new U-verse Live TV application, preloaded and available for $9.99 a month.
For more information, visit www.att.com/atrix4G. For photos and more information about presales for ATRIX 4G, visit www.att.com/mobilephones-news