After what feels like approximately half a century of hearing about it, the Avatar sequels have finally commenced filming—which means we can actually start getting details about what's going on on Pandora. And what's going on is that Jake and Neytiri have been busy since we last saw them.

More like getting busy. Revealed by Entertainment Weekly this morning, Avatar 2 will bring in seven child actors to fill various roles in the cast, several of which will be as Jake and Neytiri's offspring—not all of the new kids in the film, they've not been that busy—indicating that a good chunk of time has passed since the events of the first movie. Check them out below, although you'll have to pretend that all but one of them are actually lanky blue alien people in the film:
[UPDATED] From left to right: Jack Champion (Javier "Spider" Socorro), Trinity Bliss (Tuktirey of the Sully Family), Bailey Bass (Tsireya of the Metkayina Clan), Jamie Flatters (Neteyam of the Sully Family), Britain Dalton (Lo'ak of the Sully Family), Filip Geljo (Aonung of the Metkayina Clan), and Duane Evans Jr (Rotxo of the Metkayina Clan).
Slashfilm has also shared more information on the kids' roles, including (when applicable) pronunciations.
G/O Media may get a commission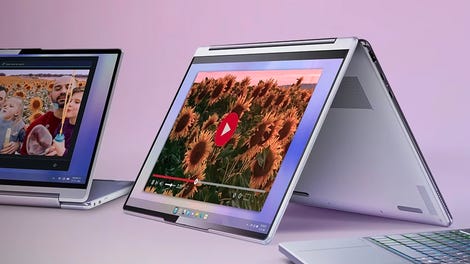 up to 70% off
Lenovo Spring Clearance
Jake and Neytiri's kids
Jamie Flatters plays Neteyam (neh-tay'-ahm), Jake and Neytiri's eldest son.

Britain Dalton plays Lo'ak (loh'-ahk), Jake and Neytiri's middle child.

Trinity Bliss plays the youngest Tuktirey (took-tee'-ray), "Tuk" for short.

The Metkayina Clan
Bailey Bass plays Tsireya (see-ray'-ah), a graceful and strong free-diver.

Filip Geljo plays Aonung (aw-nung'), a young hunter and free-diver.

Duane Evans Jr. plays Rotxo (row'-txoh), a young hunter and free-diver.

The Metkayina Clan is a from a coastal tribe not seen in the first movie. And if you're wondering where Jack Champion's Javier "Spider" Socorro fits, he's actually a human, as his name suggests. Socorro is described as a teenager who was born in the Hell's Gate military complex, the base the humans established in the first film, but he prefers to hang out in the Pandoran rainforest.
According to producer Jon Landau, these kids are pretty much going to be the face of the series going forward, playing important roles in not just Avatar 2, but beyond into Avatars 3, 4, and 5:

We never had this youthful element before, and that brings a different kind of energy to the film. They represent the future generation of Pandora and play a very significant role — not just in this movie but throughout all the movies.
So basically, say hello to the next generation of Avatar stars. You'll be seeing quite a bit of them in the three years until Avatar 2: The Kids Are All Right hits theaters in 2020.
[Correction: In a previous version of this article, Jack Champion was erroneously identified as the young man wearing brown shoes. io9 regrets the error.]