Just about every actor who's famous today has dabbled in science fiction early in his or her career. You can barely watch late-night reruns of science fiction shows or classic movies without spotting one of today's A-list actors. (And it turns out Joseph Gordon-Levitt's first genre role wasn't Third Rock after all.)
Here are the secret science fiction pasts of today's biggest movie and TV stars.
Joseph Gordon-Levitt
Before he became out serious scifi star of choice, JGL had the recurring role of screaming child David Collins in the 1991 reboot of the vampire soap opera Dark Shadows. And here he is, doing what he does best.

Sam Rockwell
He was a high-ranking member of the Foot in the 1990 Teenage Mutant Ninja Turtles movie — but still just a sweaty punk kid up to no good. Swoon.
Andrew Garfield
Before he got to be Spider-Man, Andrew Garfield was a poor Depression-era American with a Southern Accent in the 2007 Doctor Who episodes "Evolution of the Daleks" and "Daleks in Manhattan."

Tobey Maguire
Tobey Maguire may have had a wonderful mullet in The Wizard, but he didn't have any lines. However his role as ghost boy Tripp McConnell in the 1991 episode of Eerie Indiana was quite memorable, for the hat alone.

Demi Moore
Moore's scifi breakout role was in the horrifically disgusting 1982 movie Parasite. Which was screened in "true" 3D.


Ben Affleck
Before Affleck was jumping around in the original Buffy the Vampire Slayer movie, he was teaching us about hypothermia in the educational series, Voyage of the Mimi (1984). Hope that theme song doesn't get stuck in your head all day.
Courteney Cox
Cox's wacky role in the Misfits of Science was her first big science fiction break out role, unless you want to count her role in the 1987 Masters of the Universe, which came out during her stint on the iconic TV series.

Rainn Wilson
The bulk of Wilson's 1999 Galaxy Quest part was banished to the deleted scenes, but thankfully those are online! So here he is, in full thermian garb.
Miley Cyrus
Super quick blink-and-you'll-miss-her Miley spotting in Tim Burtons 2003 Big Fish.
Ted Danson
Spot this tall drink of water in the special China-themed episode of the super cheesy 1979 live action Amazing Spider-Man, titled "The Chinese Web."
Jay Baruchel
Baruchel was on not one, but four Are You Afraid of the Dark episodes. The first on "The Tale of the Dead Man's Float" in 1995, where he played the first victim of the pool. And three more episodes in 1999 and The Tale of the Time Trap, The Tale of the Walking Shadow, andThe Tale of the Zombie Dice.
Ryan Gosling
Speaking of Are You Afraid of the Dark alums — here is the infamous Gosling episode. If you're like the rest of the internet, you probably already know about this and have all of his lines tattooed on your inner right arm.

G/O Media may get a commission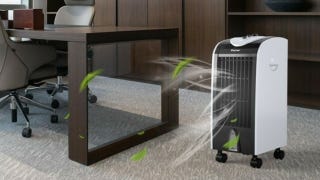 Save $10
Evaporative Portable Air Conditioner Cooler with Filter Knob
Hilary Swank
Pre-Oscar winning Hilary Swank, the girl with the amazing bang cowlick was someone named "Kimberly" on the doomed Harry and the Hendersons TV show spinoff of the delightful movie in 1991. She only had one episode. Then again, the series only had one season.

Jack Black
In the 1993 Demolition Man you can hear Jack Black exclaim "Hey man, cool it!" but in his role as school bully and leader of "The Nasties" in the 1994 Neverending Story 3 you get a whole heap more of Jack Black acting like a jerk.

Seth Green
Even before he had a role in the Twilight Zone (pictured above with the amazing hair) Green was screaming at Supernatural beasts in Tales From the Darkside episode "Monsters in My Room" (1985).

Mila Kunis
You may have spotted adorable little Mila Kunis on a sleepover party during Honey We Shrunk Ourselves (1997) but she was already dabbling in scifi years before that — and with the legendary Roger Corman in his 1995 Piranha flick.

Bryan Cranston
What was Bryan Cranston's big science fiction debut? A bumbling bad guy in the "Desperate Monday" episode of the 1980s series Airwolf! In the episode Cranston takes a sorority reunion cruise hostage, and feels really weird about it. It's hilarious —watch the full episode here.
Jennifer Aniston
Ah the infamous 1993 Leprechaun role. Not really a cameo, but that's OK.

Elijah Wood
"You mean you have to use your hands?" - Back to the Future Part II (1989).

Zac Efron
This young Hollywood star will should never forget his brief moment as Young Simon on Firefly (2002).
Ryan Reynolds
One of Reynolds first hard scifi appearance was as Jay 'Boom' DeBoom from the 1996 X-Files episode "Syzygy" (pictured above). We couldn't find that particular clip so here's video from his appearance as POS kid from Sabrina the Teenaged Witch.
Jeremy Renner
Not his very first genre role but certainly one we will remember him forever in. Behold Penn the vampire and his very early 2000s wardrobe in Angel.