The iPad should technically be perfect for comics. The large screen, the swipe gestures and the pinch-to-zoom all make digital comics that much better than it has before. But no one comic reader has gotten it completely right.
Here are the contenders for comic readers. There's the Comixology and Marvel's reader, the latter of which is just Comixology, but locked in to only Marvel's own comics. These are good if you want to read 500ish Marvel comics, or some more indie comics on Comixology, but what if you get your comics elsewhere and want to import them? Then you need Comic Zeal or Comic Reader.
Both these apps supports iTunes file sharing, which is basically file transfer—in iTunes—directly to the app. That part works fine. Once the comics get on the pad, that's when the experience splits.
Comic Reader Mobi
It's $15, but comes as a universal app (you get the iPhone version for free, essentially), and has more features than Comic Zeal. File support includes ZIP, RAR, CBR, CBZ and PDF, which are the common container formats comics come in online, from non-official sources. You know what I'm talking about.
G/O Media may get a commission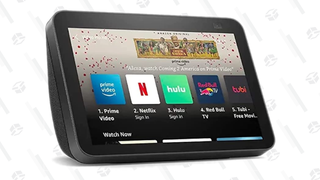 Advancing pages is done by either swiping forward, like in iBooks, or hitting the forward button, and is quite smooth. Going backward a page, however, causes the app to reload the image from scratch every time, causing a weird second or two delay. It also auto-detects two page layouts and automatically switches to landscape view, which saves you the brain processing time of figuring out that things are sideways and manually flipping the iPad.
Overall though, the experience is pretty good, making up for the iPad's size shortcomings with clever zoom and smooth scrolling. The best way to read is to turn off size-to-fit and scroll a little bit on each page, then flip to the next. But the teal UI really needs to be redone to something more presentable. [Comic Reader mobi]
Comic Zeal
The UI here is a lot more polished and iPad-like than Comic Reader Mobi, and the app comes in at only $8. You still transfer comics to the app via iTunes, but strangely, Comic Zeal has to do some processing once you fire up the app. It took around 3-4 minutes to process 7 comics I dumped in, whereas CRM processed it instantly. Strange.
Unlike CRM, Comic Zeal doesn't auto-detect two-page layouts, and it doesn't have the ability to zoom into text bubbles independently. Overall though, the presentation is nicer and the UI isn't awful. Swiping is strangely awkward, with the page chunking when you swipe, and if you don't swipe really far, it just pops back into place on the current page. The next page button works better in this app. [iTunes]
The size problem
The big issue with all these comic readers is that the 10-inch iPad screen actually isn't quite big enough to comfortably read comic book dialogue bubbles off of. If it were only 20% larger, things would be fine. In "fit to screen" mode, Comic Reader Mobi addresses this issue by allowing you to tap on dialogue bubbles and instantly get a magnifying glass effect over the text. This is genius, and works really, really well.
But you can also view comics in their original size, which means you'll have to do a slight bit of scrolling in CRM. So you're getting 80% of the page in one go, then flip down to see the rest. You can't pinch-to-zoom to enlarge the entire page, but if you pinch you can draw a rectangle around the places you want to zoom. You can actually pinch-to-zoom, but for some reason when I do it it makes the page jump awkwardly to the right.
Comic Zeal, on the other hand, allows you to either fit-to-screen or pinch-to-zoom. Fit-to-screen works exactly the same as Comic Reader Mobi, but because Comic Zeal doesn't have the text bubble zoom function, you have to pinch and pan and zoom all the time in order to read the text. Not ideal, and makes the whole experience unsatisfactory.
Marvel and Comixology tackle the problem by introducing the "guided view", which goes one panel at a time, blowing it up to full screen so you can easily see everything. Problem here is that although you can easily read the text, you lose the page formatting and panel flow.
So is the iPad a good comic book reader or not?
Man, if the screen were about 20% bigger, this would be the best comic book reader yet. You wouldn't need to pan, to zoom, to scroll or to pinch. You could just read. But right now, Comic Reader Mobi has the best solution—even if its UI is ugly as Bizarro and costs twice as much.