It's cheap, it's ball-less, it's the BlackBerry Curve 8520. Oh, and it's the first BlackBerry carrying the trackpad that's probably gonna wind up on every BlackBerry eventually.
The Price: $130 w/ 2-year contract and rebate from T-Mobile, or $48.88 with the same strings attached from Walmart
The Verdict: Was this co-designed by Fisher Price?
It's not that it's poorly built—the construction is plenty sturdy, like all good Fisher Price toys. But it's like RIM took the excellent Curve 8900 (which is also on T-Mobile for $30 more) and re-designed it for a very sophisticated 6-year-old.
G/O Media may get a commission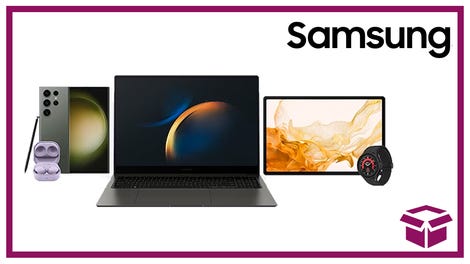 24 hour deals
Discover Samsung - Daily Deal
You can feel and see the corners cut—well, more like rounded—to get to this budget BlackBerry all over the place. The lower resolution (320x240) screen is flat-out depressing compared to every other BlackBerry display in the last year (just look). Instead of the great latch mechanism for the battery door from the Tour, Storm and 8900, it's a plain slab of plastic you pop out with a fingernail. It's also lacking GPS (though Google Maps will triangulate your position via cell towers), and the camera's only 2 megapixels. Bizarrely, T-Mobile isn't shipping it with BlackBerry App World—which got better with the recent 1.1 update—you've gotta go download it yourself.
Hey, it's got the future of BlackBerry stuck in the middle of its face: The trackpad. Swipe your finger over it, and the cursor moves. It's about 90 percent as good as the trusty trackball. The missing 10 percent is that on the occasions the phone lags, the lack of tactile feedback somehow makes it more jarring when the phone fails to respond. But otherwise, it pretty tightly approximates the control of the trackball, so you won't miss it, especially when you realize pocket lint is no longer your phone's mortal enemy. Also new are a triplet of media keys on top of the phone, but I kinda prefer a dedicated lock button.
Even though the BlackBerry platform is starting to feel a little creaky compared to Android, iPhone and webOS, it's still fairly usable, and while the 8520 might have shaved off some hardware features, RIM didn't gimp anything that would cramp performance, so it felt about the same in that regard as the 8900.
Overall, I don't think you should pay more than $100 for the Curve 8520. For $50, it's a solid deal, but if you can spare the extra $50 bucks, the screen alone on the 8900 is worth it.
A BlackBerry for $50, if you buy it at the right spot

Trackpad just as good as trackball (almost)

Keyboard is great (if you like peppy keyboards)

Every new BlackBerry makes BlackBerry OS feel a bit more tired

Feels kinda cheap, like a $50 faux smartphone

Worst BlackBerry screen in a long time—dim, text looks bad

[BlackBerry Curve 8520]