Testing headphones is a fun job for a music lover. Even if they suck, you get paid to listen to music. Yet sometimes, a set comes along that makes you want to listen because it's suddenly more fun. The Bowers & Wilkins P7 Wireless are those headphones for me.
Bowers & Wilkins is a half-century-old British audio company that rose to prominence during the hifi-obsessed 70s. As my coworker Mario Aguilar told me when I was first reviewing the B&W P5 headphones: "People love their shit." And it's easy to understand why at face value. The $400 P7 Wireless headphones, like the P5s before them, are wrapped in supple black leather and twisted chrome connects the earpieces to a clean but comfortable headband. I prefer the look of other headphones a little bit more, but the P7's are undeniably slick.
The audio quality is honestly jaw-dropping. That's a hyperbolic thing to say, but let me offer some context. The best headphones I've ever tried were not wireless. Previously, my favorite headphones were not necessarily the best-sounding. Yet, somehow the P7's are both now the best and my favorite.
The sheer range and detail that the B&W drivers pumped out left me looking for my favorite old songs so that I could hear them in a new way. A dumb example is the gritty, trebly texture of Diplo's "Florida," something I'd never heard before I tried the P7's. (I say dumb because Diplo is a dick.) Let me offer an even dumber example. "Doin' It Right" by Daft Punk and Panda Bear has deep, buttery bass line that I'd only felt that time I reviewed a subwoofer you wear like a backpack. It's my favorite part of the song, and the P7's deliver with wonderful clarity.
G/O Media may get a commission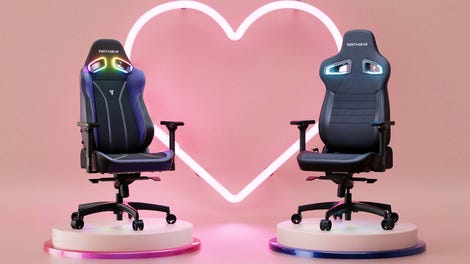 Up to $150 off
Vertagear Gaming Chairs
Of course, the real test of any headphones (or speaker) is the ability to deliver a full range of sound with terrific accuracy, all at the same time. "Shady Grove" by Kentucky Thunder and Ricky Skaggs demands as much with the soft shuffle of cloggers in the background and bold banjo drowning out a fast gut bass. I heard the whole detail through the P7's. Ditto for "Take Five" by the Dave Brubeck quartet and "3005" by Childish Gambino.
It sounds simplistic to say: these are very nice headphones. But the P7's are not perfect. Once you wrest yourself from the luxury of B&W's excellent audio engineering, some familiar headphone complaints crop up.
The connectivity quirks of the B&W headphones bug me. For example, it was infuriating when the headphones would disconnect from my device after five idle minutes. Connecting and reconnecting is easy enough, but I don't want to do it multiple times a day. However, once connected, the P7's are dependable and usually interference-free. I can't say the same about premium wireless headphones that cost $100 or $150 more than the P7's. My previous favorites, the Sennheiser Momentum, for example, cost $500 and don't sound as good.
I did have to reboot the P7's a couple times in the span of a couple weeks. This was a 10-second project: the magnetic ear pads pop off and you stick a paperclip into a hole. Why I had to do this remains a mystery, but everything worked fine again after the reboot. I'd also add that the impressive 17-hour battery life meant that they died only once when I was away from a charger.
Somehow, the extent to which the $400 P7s don't feel like ultra fancy, feature-rich headphones is what made them such a thrill. (They also sound amazing, but we've been over that.) The controls are intuitive. The microphone works well. There are nice little audio queues that tell you when you're connected or low on battery—which is much nicer than the robot voices other brands use. The P7s lack touch-sensitive ear-cups that let give you basic controls with the swipe of a finger as well as noise-cancelling. I didn't really miss these features. I also wouldn't pay another $100 for them.
But boy, do I love listening to music with these B&W sound boxes. It really does feel like you're strapping mini hifi speakers to your head, and they just pump big sound into your ears. That's the number one job of any pair of headphones. The P7s do that job admirably.
README
The brilliant sound quality will melt your face.
The flashy chrome and supple leather hardware feels great on your head.
Simple controls make it easy to control volume, etc.
Solid battery life means you don't have to worry about them dying all the time.
Connectivity can be annoying since the Bluetooth disconnects after five idle minutes.
But seriously, the Bowers & Wilkins are very nice for the $400 price tag.