Pick up Burn Notice in its entirety for just 50 bucks today. [Burn Notice]
---
Cherry MX Blues and Greens are currently locked in a battle to become my favorite mechanical switch, but you can get yourself a Cherry MX Blue Keyboard for just $60 today. [Rosewill RK-9000]
G/O Media may get a commission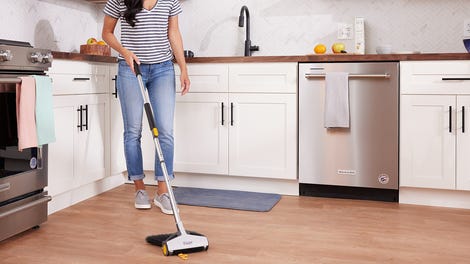 BOGO 50% Off
Flippr - BOGO 50% Off
You might not be familiar with the Rosewill RK-9000, but it actually uses the exact same Cherry MX Blue key switches as the world-famous Das keyboard, widely-regarded as the best typists' keyboard still in production today. The biggest difference between the two keyboards is price; at $60, you could buy two of these Rosewills for less than a Das.
Most mechanical keyboards in this price range are targeted towards gamers, using less-clicky switches that are great for fast twitch gaming, but not as good for general typing. If you want to learn more, Lifehacker has a great rundown of all the different switches, or you could sample them yourself with this reference tool/desk toy . [Newegg]
---
Get these deals and more, and earlier on Deals.Kinja. Connect with us on Twitter and Facebook to never miss a deal, check out our Gaming and Movie/TV release calendars to plan your upcoming free time, and join us for Kinja Co-Op to vote on the best products. Got a deal we missed? Post it in the comments with a link and we'll share right to our Deals homepage.
---
Prepare your wallet and your backlog, here are a whole bunch of PC pre-order deals. Get a $5 Amazon credit with the following games.
---
The Monster Hunter 4 Ultimate Collector's Edition is available for preorder.
---
Nintendo's newly-announced 3DS XL systems are looking sharp (even if they aren't the new version , for whatever reason), and you can preorder yours starting today. We aren't sure how many of these there will be, so if you want one, your safest bet is to order now.
preorder Nintendo 3DS XL GameStop Exclusive NES Edition ($200) | Gamestop
preorder Nintendo 3DS XL GameStop Exclusive Persona Q Edition ($200) | Gamestop
preorder Nintendo 3DS XL Super Smash Bros. Edition - Red ($200) | Best Buy
preorder Nintendo 3DS XL Super Smash Bros. Edition - Blue ($200) | Best Buy
---
We've seen a handful of deals on plasma TVs recently, presumably to dump stock as most manufacturers cease to manufacture them. Their loss is your gain though, and you can get a 60" Samsung for $730 today. [Samsung 60" Plasma TV, $730]
---
It looks silly, but I love this little thing. [ Wallet Ninja 18 in 1 Multi-purpose Credit Card Size Pocket Tool, $10]
---
I'm not going to try to convince you that Domino's makes amazing pizza, but $5 for a $10 gift card is solid for a night where you just don't feel like cooking. [$10 Domino's Gift Card, $5]
---
I have no scientific proof of this, but I estimate that I've saved approximately two years of my life with this system vs. hunting down matching tupperware lids. [ Rubbermaid 34-Pc Easy Find Lids Set, $21]
---
There's no telling how long this will last (my money is on "not long"), but you can get a KitchenAid Pro 450 stand mixer right now for $175, brand new and direct from KitchenAid's own eBay storefront. [ KitchenAid Pro 450 Series 4.5 Quart Stand Mixer, $175]
---
We've counted up your nominations, and now it's time to vote. What's the best piece of carry on luggage?
---
Media
---
Movies & TV
Books & Magazines
Apps
---
Gaming
---
PC
PlayStation 4
Wii U
Vita
3DS
Toys
---
Tech
---
Home Theater
---
This post is brought to you by the Commerce Team. We work together with you to find the best products and the best deals on them. We operate independently of Editorial, and if you take advantage of an item we cover, we may get a small share of the sale. We want your feedback.