Without a floor or even its own support poles, can a tarp do as well as a tent in high winds, heavy snow and pouring rain? We think one can actually do better, at least if its this Hyperlite Mountain Gear UltaMid 2 we're currently living out of it in Iceland.
What It's Supposed to Do? The 18 oz UltaMid 2 ($675) is a floorless Cuben Fiber pyramid shelter that provides maximum protection from the elements at a minimum weight. It can be used for backpacking, alpine climbing, ski touring, packrafting, or any other weight-critical adventure activity. It is completely waterproof and designed to withstand high winds. The pyramid's steep walls and strong construction materials make it great for handling snow-loading as well. The UltaMid features a massive interior volume for its weight and packed space, making it a great choice for extended trips where livability is a big concern, or for waiting out bad weather.
A huge advantage of Cuben Fiber is that it never wets outs; therefore won't take on water weight.




How It's Supposed To Do It? The biggest contributing factor to the UltaMid's light weight and strength is its use of the space-age material Cuben Fiber. CF is 15 times stronger than steel, is stronger and lighter than Kevlar, and doesn't lose its technical integrity when folded or crinkled. Cuben Fiber is also 100% waterproof, meaning gear doesn't wet out or absorb water weight. Additionally, the UltaMid is a pole-less shelter. Instead of traditional tent poles, it utilizes trekking poles, skis, oars, or whatever else you can find as a center support. By using supports that you're already carrying, it cuts down on overall weight. Chances are that the supports you're carrying are stronger than traditional tent poles too.
G/O Media may get a commission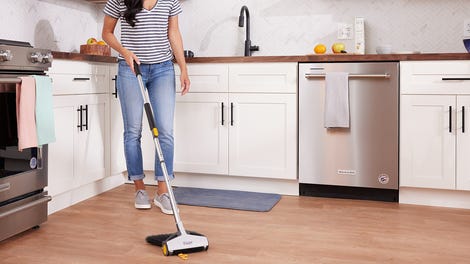 BOGO 50% Off
Flippr - BOGO 50% Off
The UltaMid features eight reinforced perimeter tie-outs for pitching and four additional body panel tie-outs which allow it to be guy-lined for extra support. It can be pitched higher or lower to the ground depending on the height of the center support. Two large mesh vents near the pyramid's cone provide additional ventilation; it has a large dual zipper front door allowing for easy access in and out.
How Does It Perform? If you're used to carrying around a traditional tent, the first thing you'll notice is how light the UltaMid is. It's compact too; stuffs into a 10"x12" stuff sack. The UltaMid is heavier than simple ultralight flat tarps (which typically weigh about 10 oz), but it offers much greater protection than those lighter shelters.
The UltaMid 2 packs down incredibly small.

I've tested the UltaMid in every possible weather condition, all over the world; I've been living in it almost non-stop for the last month. I've used it in hot and dry conditions during summer in the Sierra Nevada. Put it to the test against torrential downpours and relentless winds in Iceland. Survived a fresh powder dump in the mountains. It successfully adapted to each situation with ease.


If pitching with trekking poles, lash them together with pole straps to achieve proper and adjustable height. Photo by @danielbrucelee.

Pitching: I always carry trekking poles, so I pitch with those. The UltaMid Pole Straps will allow you to lash your two poles together in order to create enough height for pitching. This shelter is tall; if pitching with trekking poles you'll need the straps. Simply put the poles next to each other and lash them together. The straps are belt-buckle style. I prefer attaching the straps with the handles next to each other because it makes the poles easier to extend upward to adjust the height. Next, stick your pole in the ground, place the shelter over it, and stake out the first corner. Then travel around the perimeter, attaching the corners first; finally staking out the middle lines. When staking out the corners, make sure that they are squared off to maximize the interior space.


The UltaMid's tie-outs feature line-locks to keep tension.

If you're anticipating gnarly weather, go ahead and attach the guy-lines too. They will provide additional support. Longer stakes like these work best for the corners. Shorter, lighter duty ones like the Vargo Titanium Shepherd's Hooks will be fine for the middle tie-outs. If pitching on softer ground, the Vargo Titanium Ascent Stakes will provide extra grip. The ground in Iceland hasn't been very receptive of stakes, but we were able to increase support during windy conditions by placing large rocks over them. Even in dark, windy conditions, Daniel and I can pitch the UltaMid in five minutes.


The UltaMid is right at home in the snow.
If snow camping, use additional trekking poles, avalanche probes, skis, ice axes, or anything else you can find to stake out the shelter with. They will be much better grounded than stakes. A four-season inflatable pad like the Therm-A-Rest NeoAir XTherm (15 oz, $190 for Regular Length) will provide insulation from the heat-sucking ground; pairing that with a 2.8 oz, Thinlight ⅛" Insulation Pad from Gossamer Gear ($16) will provide additional insulation.
The UltaMid 2 is spacious for two; a palace for one.

Because the UltaMid is an insertless shelter, it's best when used with a lightweight bivy sack like the Katabatic Gear Bristlecone ($149.) A bivy will provide bug protection, protect your sleeping bag's delicate fabric from abrasion, and provide protection from backsplash or runoff water as well. Additional advantages of using a bivy are that it will add a few degrees of warmth to your sleeping bag's temperature rating. During the summer, I rarely had to use a sleeping bag with the UltaMid and Bristlecone.


Summer can get hot, so pitch the pyramid with a higher center. This will allow for more air to circulate through the sides, keeping the interior cool. The same approach can be taken in colder weather. More circulation will prevent condensation from building up inside. An added bonus of a higher pitch is increased interior volume. With a 10" gap on the sides, Daniel and I can easily fit all the contents of our 100L packs in with us. It's a tight squeeze, sure - but collectively we are carrying a ton of stuff.
From starlight nights to extreme mountain weather, this Tarp remains versatile, comfortable and stable.
Initially I worried about staying dry with a higher pitch, but even in continuous sideways rain we never got wet. More than a foot of snow dropped on us while in the mountains one night, but we woke up and pushed it off the walls without even going outside. The UltaMid stood up to southeast Iceland's constant bombardment of winds — winds great enough to knock us off our feet.
Not quite a "portal to the world," but still a nice view nonetheless.
If you're used to the comfort and security of a bathtub floor that traditional tents offer, the UltaMid could take some getting used to. However, not having a floor presents several advantages. You can drag dirty, muddy, or wet gear inside without contaminating your sleeping bag and other belongings. You can wear your shoes inside without getting the floor dirty. The same applies if you're adventuring with a dog. The biggest disadvantage of the floorless design is that those quaint, "window-to-the-world" tent photos that are so popular on the internet don't have the same effect.
The UltaMid mimics the mountains that it calls home.
From an aesthetic standpoint, the translucent-white triangular pyramid is stunningly beautiful. It features clean lines and its lack of color blends in well with alpine landscapes. If most of your adventures are in forested regions and you practice Leave No Trace, HMG offers a spruce green color as well.
At $675, the UltaMid 2 costs significantly more than other ultralight shelters, especially when you factor in the need to use a bivvy sack with it. The high cost is mostly because Cuben Fiber is still incredibly expensive; the UltaMid uses a lot of it. The premium price is a definite consideration for purchasing this shelter, but at the same time if you are a four-season explorer, using one uncompromising shelter year-round makes a lot of sense.
Compared to the 18 oz UltaMid 2, a typical lightweight four season tent (for example, the relatively "inexpensive" single-wall Black Diamond Firstlight - $360, 3 lbs 5 oz) sacrifices space and livability to achieve a lower weight.
Similar designs from other manufacturers can reach up to $600; all of those tents are cramped for two; and will wet-out in rainy conditions. They do not breathe well, and are generally considered unsuitable for summer use. Expect to pay anywhere from $200-300 for a three-season tent to achieve a weight of less than 4 lbs. Add the costs of a four-season tent and a three-season tent and you're probably going to pay at least $500 if you want to adventure year-round; in both cases there will be a compromise of weight, interior space, and durability.
A single plane streaks across the night sky in front of the Milky Way at Trolltunga, Norway.




Adventure Ready? The Hyperlite Mountain Gear UltaMid 2 has triumphantly battled every condition we've been able to throw at it, all over the world, and it's still going strong. I have so much faith in the UltaMid, that I've chosen to live out of it for the next several months while I adventure all over the world: from the cold, rainy, and windy southeast coast of Iceland to the snowy, high altitude Himalayas in Nepal, to the hot and humid tropics of Southeast Asia. It's equally at home in the desert as it is in the mountains, and it's one shelter that can be used year-round. Perhaps best-of-all, it barely weighs more than a pound. Adventure ready? Hell yeah it is.
Photos: Chris Brinlee Jr. Follow him on Instagram as he adventures throughout the world.
IndefinitelyWild is a new publication about adventure travel in the outdoors, the vehicles and gear that get us there and the people we meet along the way. Follow us on Facebook, Twitter, and Instagram.