More Captain Marvel team chatter. Sony's Venom film gets a surprising rating. Oliver Queen gets into a prison scuffle and another look at Titans. Plus Zachary Quinto boards one of Joe Hill's horror adaptations. Spoilers right this way...
Captain Marvel

Speaking with Entertainment Weekly, Clark Gregg teased his first meeting with Nick Fury as a "meet cute" moment, adding, "I don't think Sam [Jackson] will put it that way."
"He's a relatively new S.H.I.E.L.D. agent who is obsessed with MC Hammer and dresses just like him, and it makes Director Fury so angry," Gregg quips, "The genie pants don't really go with the Armani."
---
Venom
Fandango's Erik Davis reports Venom has officially been rated PG-13 by the MPAA.
G/O Media may get a commission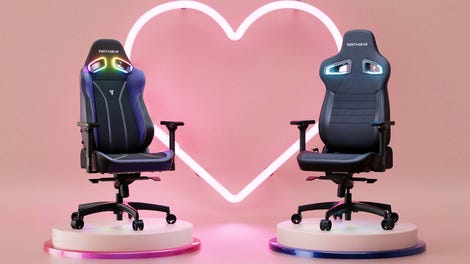 Up to $150 off
Vertagear Gaming Chairs
Meanwhile, the latest TV spot includes Eminem's polarizing theme song.
---
The House With a Clock in its Walls
Four new clips (and two new poop jokes) from Eli Roth's supernatural family comedy have been released.
---
The Predator
The Ultimate Predator snickers like Snidely Whiplash in the latest clip.
---
Hatchet 5 & 6
Despite the character being torn apart by an airplane engine at the end of his last outing, franchise director Adam Green revealed two more Victor Crowley movies are in the works during a recent interview with Horror Channel.
A major reason why the Hatchet sequels have succeeded is that they were planned out from the very start. In the first film, I actually showed some of the weapons that Victor Crowley wouldn't actually use until the later films and I held back crucial elements of his mythology to be revealed later on down the road. Of course, it was also a risky move given that there was no way of knowing if I'd ever get to make the sequels.

Originally I had only planned for Hatchet to be a trilogy, but when I decided to bring 'Victor Crowley' back for more I planned out another complete roadmap for where it could all go. With the success of Victor Crowley (Hatchet 4) it looks like I'll once again be able to make the sequels I have planned. I've been able to stay in love with Victor Crowley because I only head back into his swamp when I'm ready to do so. Given that Hatchet is a cult franchise and not a studio property, my crew and I have always been able to make each film only when we want to. The "Hatchet Army" has always been willing to patiently wait until I'm ready. Not every filmmaker has such a luxury and I have never taken it for granted.
---
Into the Dark
Blumhouse's Hulu holiday horror series has a teaser.
---
High Life
Variety reports A24 has purchased the distribution rights to Claire Denis' upcoming sci-fi thriller, High Life, starring Robert Pattinson and Juliette Binoche. The story concerns a spaceship full of criminals circling a black hole.
---
Godzilla: The Planet Eater
Bloody-Disgusting has the poster for Netflix's third and final Godzilla anime movie.
---
Supergirl
According to TV Insider, Xander Berkley has joined the cast of Supergirl as Agent Liberty's father, Peter Lockwood. The character is described as "a middle-class factory owner struggling to make ends meet in a world that's rapidly changing due to the rise of aliens from outer space living amongst us. The seeds of his discontent sows the beginning of an anti-alien wave."
---
Arrow
That Hashtag Show reports the series is now looking to cast a French-speaking male in his 30's for the role of Javelin, an Olympic javelin thrower turned super criminal and enemy of Mr. Terrific.
Meanwhile, a nude Oliver gets into a wet and sweaty prison fight in the latest teaser for season seven.
---
NOS4A2

Zachary Quinto has joined AMC's adaptation of the Joe Hill horror novel as its lead villain, Charlie Manx, "the seductive adversary who feeds off the souls of children, then deposits what remains of them into Christmasland — an icy, twisted Christmas village of Manx's imagination where every day is Christmas Day and unhappiness is against the law. Manx finds his whole world threatened when Vic (Australian actress Ashleigh Cummings) discovers her dangerous gift."
[TV Line]
---
Daredevil
In a recent interview with Yahoo! Movies UK, Charlie Cox revealed season three will include "an homage" to the infamous hallway fight scene from season one.
The one thing that I am excited about is that we do have a scene in the show that is an homage to the corridor scene from series one. I'm very excited about the fans to see that.
---
The Walking Dead
Spoiler TV has the titles, writers, and directors for the first eight episodes of season nine.
Episode 901 - "A New Beginning"

Writer: Angela Kang

Director: Greg Nicotero

Episode 902 - "The Bridge"

Writer: David Leslie Johnson-McGoldrick

Director: Daisy Mayer

Episode 903 - "Warning Signs"

Writer: Channing Powell

Director: Dan Liu

Episode 904 - "The Obliged"

Writer: Geraldine Inoa

Director: Rosemary Rodriguez

Episode 905 - "What Comes After"

Writer: Matthew Negrete

Director: Greg Nicotero

Episode 906 - "Untitled"

Writer: Eddie Guzelian

Director: Larry Teng

Episode 907 - "Stradivarius"


Writer: Vivian Tse

Director: Michael Cudlitz

Episode 908 - "Evolution"

Writer: David Leslie Johnson-McGoldrick

Director: Michael E. Satrazemis
---
Titans
Entertainment Weekly has our first look at the team together, as opposed to by themselves or ward meeting ward.
---
Supernatural
Entertainment Weekly also has two new photos from the latest season of Supernatural.
---
Black Lightning
Finally, the CW sits down with actress Nafessa Williams to discuss Black Lightning's second season.
---
Banner art by Jim Cooke.