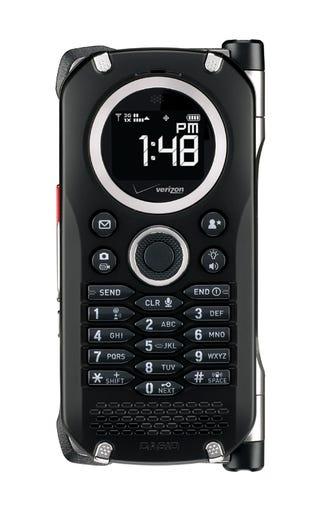 The Casio G'zOne Brigade is not a messaging phone you'd want to meet in a dark alley. It's shock resistant. It's water resistant. And like a great kung fu master, its outer strength is matched only by its inner fortitude.
In addition to its durability, the Brigade comes equipped with a full HTML browser, a Document Viewer that handles Word, Excel, PowerPoint and PDFs, and text-to-speech functionality. It's also loaded up with a 3.2MP camera. It's also got a music player (recommended genres: metal, punk, recordings of machine guns) and Micro SD expansion up to 16GB.
No word yet on price, but I'm assuming that when you go see The A-Team they'll be handing these out instead of 3D glasses.
Update: According to a tipster and a commenter, the Brigade is going to cost $250 after a mail-in rebate and require a data plan. So maybe this is a tough phone more for the billionaire adventurer type? Hey, they need handsets too!
CASIO G'ZONE PROUDLY INTRODUCES THE BRIGADE
Futuristic Rugged Design Meets Advanced Features

NEW YORK, NY March 11, 2010 - The new CASIO G'zOne (pronounced Jeez-wun) Brigade™** possesses the latest innovations in rugged wireless devices. For most well connected consumers, text messaging has become a viable form of communication for both personal and business matters. As the first water and shock resistant messaging device in the U.S. marketplace, the CASIO G'zOne Brigade™ embraces this need for connectivity and brings reliability and toughness to a wider audience.

Beyond its resilient construction, the CASIO G'zOne Brigade™ is a tool for ever-increasing productivity. With a Full HTML Browser and Document Viewer for reviewing Word Documents, Excel Spreadsheets, PowerPoint presentations and PDFs, the Brigade is the perfect device to maintain both business communication and personal contact on the go. A perfect tool for multitasking, the CASIO G'zOne Brigade™ introduces the Text-to-Speech function, which allows users to listen to their text messages, multimedia messages and emails.

The advanced 3.2 Mega Pixel Camera with LED flash captures images under the harshest conditions. For professional grade photos, the CASIO G'zOne Brigade™ features BestShot™, a function with 6 pre-set modes that automatically changes the camera's settings based on the background, and Auto Focus (Spot, 9 point and Face Detection), a quick performance tool that minimizes blur caused by shaky hands or a moving subject.

Additionally the Brigade is fully equipped with the Multimedia features Stereo Bluetooth™, music player, and Micro SD memory expansion (up to 16GB) for image storage and music on the go. Additional features include a unique crocodile texture exterior for no slip grip, GPS for directions at your finger tips, Push to Talk for instantaneous communication, Clear Talk for crystal clear calls and speaker phone, and Voice Recorder to create quick reminder memos.

To see the Brigade in action, visit www.CasioToughPhones.com