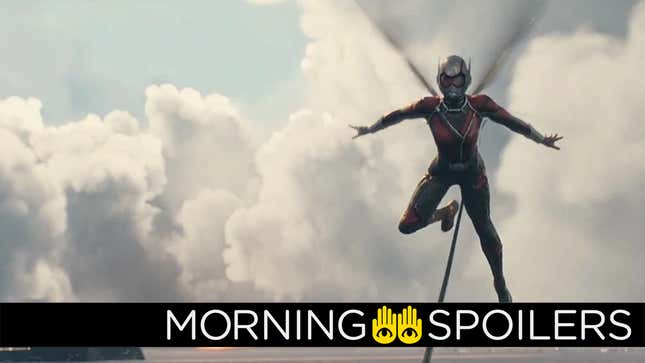 The League goes all in for new Justice League posters. Josh Brolin is caught in some strange photos from the Deadpool 2 set. We're getting a little more Star Trek: Discovery this year than previously planned. Plus, Odette Annabelle on her Supergirl villain, and new Star Wars: Rebels footage. Spoilers, go!

Apple's Vision Pro Seems Powerful, But Who Is It For? | Future Tech

Ant-Man & the Wasp
Central Casting Georgia has put an ad on Facebook looking for Argentinian locals to play extras in a scene set in 1987, presumably for a flashback sequence that would involve Michelle Pfeiffer's Janet Van Dyne:
We are looking for men and women to portray 1980's Argentinian locals for an awesome set of scenes on Marvel's "Cherry Blue".

Must be available for a fitting in Savannah during the week of 10/23 and to work the entire day on 10/30 & 10/31.

Looking for people that are local to the Savannah area as travel will not be provided/compensated.

If interested and completely available, please email your name, phone number and a current picture of yourself to: savannah@centralcasting.com and put 1987 in the Subject Line.
---
Justice League
The League goes all in in a new set of character posters, ahead of the next trailer's release at New York Comic Con this coming Sunday. [Deadline]




---
Deadpool 2
Just Jared has some unusual set photos of Josh Brolin in a skin-tight leotard, pushing a shopping cart. You know, as Josh Brolin does.




---
Velvet
Paramount Television (formerly Spike TV) plans to adapt Ed Brubaker's comic book, Velvet—a thriller about an ex-spy getting back into the espionage game to settle an old vendetta—into a TV series, under the auspices of executive producer Kyle Killen. [THR]
---
V for Vendetta
Bleeding Cool reports British broadcaster Channel 4 is developing a TV series based on Alan Moore's V for Vendetta.
---
Once Upon a Time
Actress Mekia Cox spoke to TV Guide about how Once Upon a Time's Princess Tiana differs from her original incarnation in the animated film.
From what I've seen on the show, they take pieces of the character and put their own spin on it. She does love to cook, I can say that. She is aspiring to have her own restaurant one day. She does have some similarities to the Tiana we already know and love, but then they give her a little bit more of a backstory.
---
Star Trek: Discovery
CBS has decided to make the first nine episodes of the series available by the end of the year, instead of the originally planned eight. The second batch of six episodes will air in January, 2018. [Coming Soon]
---
Arrow
Speaking with TV Guide, Wendy Mericle stated the four-part Crisis on Earth-X crossover will explore true love between Oliver and "one other character in the Arrow-Verse."
It's Oliver and one other character in the Arrow-verse's story. It really explores the question of true love, and what does that look like? It's emotionally really compelling, and you're going to be surprised by what he learns and how he learns it and who he learns it from. It's pretty crazy stuff, I'm not going to lie.
---
Supergirl
Odette Annabelle spoke to Entertainment Weekly about her slow transformation into the villain Reign.
Samantha is a single mother, she's a hard worker, she's very much a working mom in the sense that she's trying to juggle it all, as one does, as I do in real life. She loves her daughter more than words can express. They have a really special bond. What I think is really special about this storyline is it's a slow play and you'll get to see this whole heartbreaking story unfold in a really — they're taking their time with it, and we have the time to do it. I think the audience is really going to hopefully relate.
---
Gotham
Professor Pyg debuts in the synopsis for episode six of the new season, "Hog Day Afternoon."
Gordon and Bullock are hot on a serial killer who has been assassinating cops and dressing his victims in the severed heads of pigs as his signature mark. Meanwhile, Sofia tries to win over Penguin, and Thompkins, Nygma and Grundy find themselves an unlikely home at Cherry's place in the all-new A Dark Knight: Hog Day Afternoon.
---
The Gifted
Meanwhile, the mutant Pulse debuts in the synopsis for "eXit strategy," airing October 23.
When the mutants devise a plan to take down Sentinel Services, Eclipse seeks out an old friend from his dark past in order to obtain some useful information. Meanwhile, Lauren and Andy attempt to combine their powers in order to help the group.
---
Stranger Things
A new promo discusses the pop culture happenings of 1984.


---
The Chilling Adventures of Sabrina
Squint enough and you can read about Sabrina and boyfriend-TBD Harvey taking a walk through the woods in a page from the spinoff's pilot script, posted to twitter by showrunner Roberto Aguirre Sacasa.
---
The Flash
Iris seemingly takes arms against Gypsy in pics from episode two of the new season, "Mixed Signals." More at the link. [TV Line]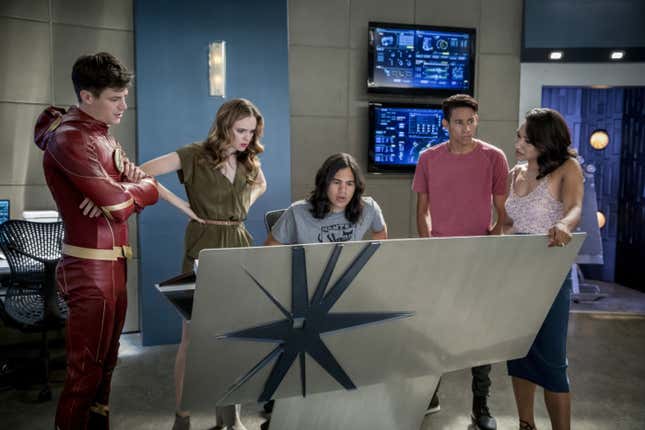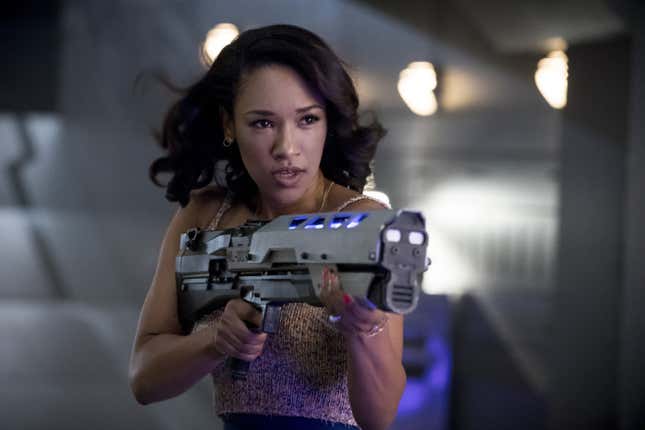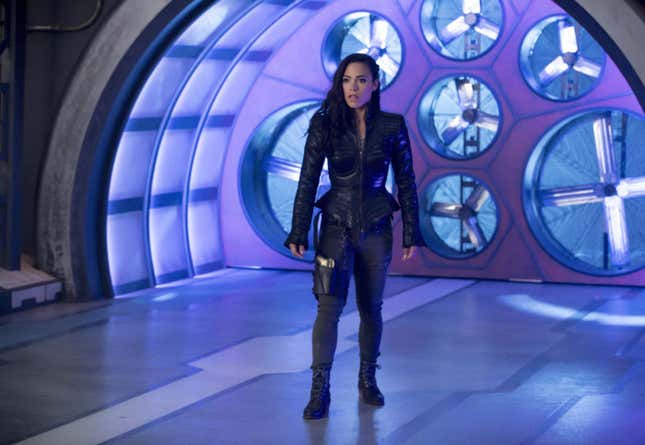 ---


Star Wars: Rebels
Finally, there is what is frankly an alarming number of disintegrated Mandalorians in the latest trailer for the final season of Star Wars: Rebels.
---
Banner art by Jim Cooke.