The upcoming DreamWorks animated movie Home features Jim Parsons as a crazy dancing alien. But it also has some completely bonkers visuals of an offbeat alien invasion of the Earth. This film let a ton of great artists go nuts with spaceships and floating buildings. See for yourself, with some exclusive concept art from the film.
Top image: Artwork by Emil Mitev "Director Tim Johnson says Tip and Oh's road trip across the planet allowed him and the design team to celebrate the distinct beauty and diversity of our world: 'The title of the film says it all. We have this beautiful home planet.'"
This artwork comes via a new book, The Art of Home, which has lots of insights into how DreamWorks managed to turn Adam Rex's book The True Meaning of Smekday into a big animated movie, including the design process of creating the alien Boov and conjuring the images of an Earth that's been transformed by the Boov's presence. And some wacky cosmic visuals showing the Boovs' spherical bubble ships flying through a weird rainbow space.
One of my favorite illustrations in the book shows the UI of the Boov spaceship, complete with odd schematics and alien script. It definitely shows how much thought went into creating a neat-looking alien civilization that's not 100 percent like what we've seen before.
Here are some more art spreads and excerpts from The Art of Home:
"The movie gave us the chance to really explore the possibilities of the 3-D technology. We have some great sets that help us draw the viewers into the rich 3-D environments. There is some lush foliage, similar to Avatar's Na'vi planet. We shoot through trees and some stunning foreground elements, which add to creating a rich, animated experience. There's also this remarkable crash landing in China—one of our artistsbuilt an amazing cathedral out of bamboo, which leads to the Gorg, which is pretty incredible. "I think what makes this movie stand out is the very original tone. It's a buddy, friendship tale, but it's also a science fiction movie to a large extent. It's also a great comedy. One thing that makes our movies at DreamWorks really special is the fact that they're all different from each other. Each time we explore an entirely new imagined world. There's nothing conventional about them."— Mike Trull, Head of Final Layout
G/O Media may get a commission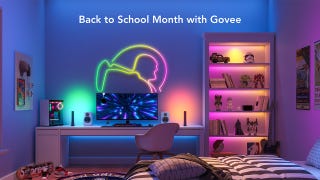 Back to School
Back to School Month with Govee Sale
"I think the most unique challenge in this movie was working on the Gravity Balls. We have huge floating bundles of everyday items like cars and umbrellas meander through the sky in scenes. We have lit umbrellas and cars before in other movies, but when there are hundreds of them stuck together floating around in a giant ball, the look can be dramatically different."—Betsy Nofsinger, Head of Lighting
Artwork by Jason Scheier
"In terms of stylistic goals, we wanted to hit the sweet spot of having enough realistic elements while keeping the lovable simplicity of our character designer's work. His shapes and geometries are so elegant and adorable. We needed to complement his work in terms of textures and material. Our director Tim Johnson didn't want the movie to look overly photographic and pushed it to have a watercolor-y feel. The trees, the buildings, even the grime on the surface of the buildings—everything had to feel organic and traditional. We had a delicate job of balancing between the real and the painterly."—Jeremy Engleman, Head of Surfacing
Artwork by Emil Mitev
---
Reprinted from The Art of Home by Ramin Zahed published by Insight Editions. Dreamworks Home © 2015 DreamWorks Animation L.L.C. All rights reserved.