Now, I've walked around this maze before so know how tough it is, but cheating using your cellphone's GPS? You may as well stay at home playing GTA or something.
The Daily Mail spoke to employees at Longleat Safari Park* in Wiltshire, England, who'd noticed that many people are now using their phones to find their way out of the 3.2km-long hedge maze. They can take around 90 minutes to get out of (not for this Gizmodoian, however, who always follows the left wall), but with the GPS settings it's suddenly possible to get out and down to the cafe in time for a scone and cup of tea before closing time.
Some people, if the GPS isn't working for them, even stand up on tippy-toe and take aerial photos of what's ahead—if they can crane the phones over the 7ft-tall hedges. [Daily Mail]
*Brief bit of trivia, factfinders: I actually got married at Longleat House this year (though didn't attempt the maze on my wedding day). If anyone is ever in the area, you should definitely stop by and check out the grounds.
G/O Media may get a commission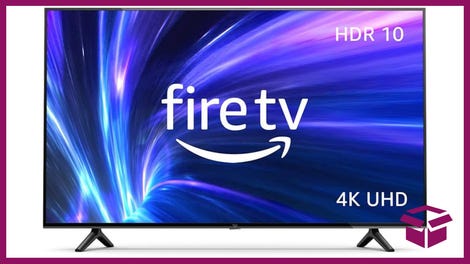 42% Off
Amazon Fire TV 50" 4K Smart TV