Richard Curtis's time-traveling romcom About Time finds a new leading lady. Fox renews one low-rated science fiction drama while dropping another. The Vampire Diaries showrunner goes inside last night's finale. Plus a Ray Bradbury adaptation... and Chloe Moretz is a zombie!
It's spoilers all the way down!
Top image from Game of Thrones.
Snow White and the Huntsman
Here's a behind the scenes video. You can also check out a sneak peek at the link. [Coming Soon]

---
Men in Black 3
Here's a new video featuring clips and interviews with the cast. [First Showing]

And here's a new international TV spot.

---
About Time
Midnight in Paris and Sherlock Holmes actress Rachel McAdams has reportedly been cast as the romantic lead in this film from Four Weddings and a Funeral and Blackadder writer Richard Curtis, who also wrote the excellent Doctor Who episode "Vincent and the Doctor." McAdams is taking over for New Girl star Zooey Deschanel. She will play a time traveler's love interest, possibly because she is attempting to copy and paste over the first time she played that exact role in that misbegotten The Time Traveler's Wife adaptation. [Hollywood Reporter]
---
Maggie
Dark Shadows actress Chloe Moretz and Hot Fuzz actor Paddy Considine are reportedly in talks for this zombie movie, in which Moretz and Considine would play daughter and father - if I'm reading between the lines correctly — Considine's unconditional love is unaffected by Moretz being turned into a zombie in the midst of a full-on undead apocalypse. The budget is a low $10 million, and it will reportedly be directed by commercials veteran Henry Hobson from a script by John Scott 3. [Variety]
G/O Media may get a commission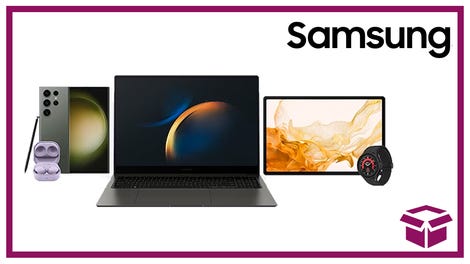 24 hour deals
Discover Samsung - Daily Deal
---
From the Dust Returned
MGM has reportedly acquired the rights to legendary author Ray Bradbury's 2001 novel. Denise Di Novi and Alison Greenspan, who previous developed an adaptation of Bradbury's The Illustrated Man collection for Warner Bros., are handling production duties. Here's the official description of the novel from Bradbury's website:
Fifty-five years in the making, "From the Dust Returned" grew out of a short story, "Homecoming," which appeared in the October 1946 issue of Mademoiselle magazine. Bradbury has published just five other stories about the Elliots, an outlandish, greathearted and loving-spirited Halloween creature clan and their "abnormal" (i.e., his face is reflected in the mirror!) adopted son Timothy. Over the years, Bradbury readers have clamored for more Elliott tales. A lifelong labor of love, "From the Dust Returned" is a novel (in much the way "The Martian Chronicles" is a novel) comprised of the previously published six stories interwoven with newer chapters and "connective tissue" that give us an unforgettable portrait of the rise and fall of a most peculiar brood. Here are Cecy, "the one who dreams," a young girl yearning for love who can experience the world only through the travels of her mind; Uncle Einar, a fun-loving, proud-winged vampire who loses his ability to fly; Great Grandmère, the family matriarch, who speaks of millennia gone by from deep within her mummified wrappings; and Tom, a farm boy whom Cecy "meets" and falls in love with one night during one of her spirit-borne journeys.
[Deadline via Coming Soon]
---
RED 2
Chicago star Catherine Zeta-Jones and G.I. Joe: Retaliation's Byung-Hun Lee have been cast alongside Bruce Willis and the rest of the semi-geriatric retired CIA operatives in the sequel to the adaptation of the Warren Ellis comic of the same name. There may have been a simpler way to phrase all that. [Coming Soon]
---
Fringe
Here's a sneak peek at tonight's season finale, "Brave New World: Part 2." [TV Guide]

Here's a video in which Leonard Nimoy and the rest of the cast discuss William Bell's big comeback. [SpoilerTV]

And here's the second half of the joint interview where John Noble and Leonard Nimoy discuss the relationship between Walter Bishop and William Bell. [Fringe Television]

---
Game of Thrones
Robb Stark actor Richard Madden says he'd like to see his character meet King Joffrey... and gives a pretty good reason why it probably won't happen anytime soon:
"I'd like to see Robb and Joffrey have a scene together, and I kind of think I know how it would end. He'd cut his head off completely. In a second."
---
True Blood
Here's a casting call for the eleventh episode of season five:
[ELDER FAERIE] Female, 40s and up. African American or Caucasian. Actor / Dancer. One Episode Guest Star. STAR NAMES ONLY
---
Awake
Here's a promo for next week's episode, "Two Birds", which is the penultimate entry of the season and, in all likelihood, the series.

---
Person of Interest
Here's a promo for next week's season finale, "Firewall", which guest stars genre stalwart Amy Acker.

---
Once Upon a Time
Here's an extended promo and a sneak peek for this Sunday's season finale, "A Land Without Magic."

Showrunner Edward Kitsis offers this cryptic hint for the finale:
"Regina enacted a curse for revenge that left a hole in her heart that she's trying to fill with Henry. This will test her unlike any other."
In totally unsurprising news, the show has reportedly been renewed for a second season. [KSiteTV]
---
Alcatraz
Next, in not particularly unexpected but still vaguely disappointing news, Alcatraz has been cancelled. [Den of Geek]
---
Touch
Finally, in other, much more disappointing news... Touch has been renewed for a second season. [E! Online]
Here's a promo for next week's episode, "Tessellations."

Here's the description for the episode:
MARTIN MAKES AN IMPORTANT DECISION ON AN ALL-NEW "TOUCH" THURSDAY, MAY 17, ON FOX

When Martin is mistaken for a criminal, he must involve himself with a heist crew in order to win back an innocent dock worker's job. Meanwhile, an Israeli boy (guest star Sean Peavy) and Palestinian girl (guest star Eden Modiano) fight to keep their relationship afloat. Clea uncovers some surprising documents about Jake, while Martin and his late wife's sister (guest star Catherine Dent) meet to make a pivotal decision.
And some promo photos. [KSiteTV]
---
Supernatural
Here are previews from executive producer Robert Singer and Castiel actor Misha Collins for next Friday's seventh season finale, "Survival of the Fittest." [multipleverses.com]

And here are some promo images. [KSiteTV]
---
Eureka
Here's a promo and sneak peek for this Monday's body-swapping episode, "Jack of All Trades."

---
The Vampire Dairies
Executive producer Julie Plec discusses the major fallout of the third season finale, in which Elena appears on the road to becoming a vampire:
You've got a girl who just sorta lost her last adult living family member when Aunt Jenna died last year, so when we started this season, what we really wanted to do was begin this relationship with Alaric as her guardian and mentor, and then tear that away from her at the end leaving her and her brother with nobody. It felt like now was the time — when you're left with no grownup, no adult supervision, no parent, no guardian — for Elena to experience the next evolution of her journey. All the stuff that we did with having her get stronger over the course of the year, training and getting in touch with her physical self, and all the grief and all the emotion that she went through, all the compassion that she has for everybody, it will all play into next year and what kind of person and vampire she will actually be — if she should choose to see the transition through.

Obviously, she will transition.
There will be a discussion to be had about it at the beginning, but the road we're going down is pretty balls out.
She also discusses at length what all this means for Elena and Damon:
What we've said all year is that this is the choice for who she is at this moment in her life, and what she wants out of her life, and who she wants to have in her life in a romantic way. Though she has obviously grown to love Damon, and probably be in love with Damon, over the course of three seasons, what she said was 100 percent true: Even at its worst, she never fell out of love with Stefan, and you just can't let somebody like that go. So letting Damon go was the right thing to do for her. Of course now, who knows what's gonna happen? Her life just got completely turned upside down and ripped inside out. God only knows how each brother is gonna handle it? If they have opposing viewpoints [read: Damon definitely would have saved Elena first, so she'd still be human], then how are they going to handle each other? They just miraculously survived this year tighter than ever as brothers, what will this new development due to that relationship? There's all kinds of great questions that are gonna come up as a result of all this.

One of the twists we didn't see coming — conveniently after Elena said maybe her choice would have been different if she'd met Damon first — was that Damon HAD actually met her first on the night of her parents' crash, but he compelled her to forget because he didn't want anyone else to know he was in town.
Damon now has a small collection of things that he's compelled her to forget. If there's one thing that everyone knows about our vampire rules is that when you die and are in transition, your memories start to come back. So, there's some new information that will be introduced to Elena in the first episode of next season. I think it's just all part of the ongoing friendship and romantic entanglement that Elena has with Damon. She's never gonna be able to shake it completely, and new information is only gonna get under her skin and embed itself into her even more. And so, it will cause complications with Stefan, of course. But she's committed to Stefan. She loves Stefan. We'll get to actually see them be together for a little while.
There's still more at the link. [EW]
---
Young Justice: Invasion
Here are some promo photos for tomorrow morning's third episode, "Alienated", and there's also a brief description below. [KSiteTV]
The Team and the Justice League continue to hunt the Kroloteans that have invaded earth – but the aliens have help from an extremely unexpected source…"
---
Additional reporting by Jennifer Griffith-Delgado.