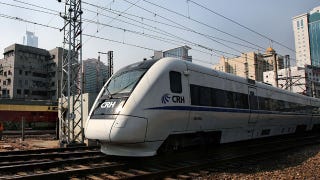 China's second largest bullet train maker has recalled fifty-four trains over safety concerns. The government is also suspending future expansion of the high-speed railway while it examines the safety of existing lines.
This decision comes three weeks after a major train crash took the lives of 40 passengers in Wenzhou, China. In this accident, two trains collided on a bridge and partially derailed. A lightning strike was originally cited as the cause of the July crash, but an investigation uncovered major management problems and equipment failure. [CNBC]
---
You can keep up with Kelly Hodgkins, the author of this post, on Twitter, Google + or Facebook.