On Wednesday, the House Natural Resources Committee sent a bill that would overhaul the 1906 Antiquities Act to the full House floor for consideration. Authored by one of the act's most fervent opponents and chairman of the committee, Rep. Rob Bishop (R-Utah), the bill is a direct attack on the President's power to protect cultural and natural resources on U.S. lands and a longtime dream of Bishop's, who took great umbrage at former President Obama's use of the act—especially in his home state.
When President Theodore Roosevelt, a Republican, signed the Antiquities Act into law, it was meant to help government preserve historic, scientific, and otherwise valuable lands for future generations by declaring them national monuments. In the intervening century, it has been used by leaders of both parties to establish dozens of protected public lands, ranging from vast marine monuments like the one created around Hawaii by President George W. Bush and expanded by Obama, to much smaller monuments, sometimes just the size of a single building.
In announcing his new bill, H.R. 3990, somewhat ironically titled the National Monument Creation and Protection Act, Bishop said the originally "worthy goal" of the Antiquities Act—to protect historical and archeological artifacts and structures under threat—has been "manipulated for ulterior political purposes."
"Today the Act is too often used as an excuse for presidents to unilaterally lock up vast tracts of public land without any mechanism for people to provide input or voice concerns. This is wrong," he said in a statement.
Obama, who dealt with a Congress unwilling to negotiate on many issues—including the idea of establishing national parks or other protected areas that require congressional approval—used the act more than any president, creating or expanding 34 monuments for a total 550 million acres. One of his most controversial uses of the act was the creation of Bears Ears National Monument in southern Utah, a more than 1.3-million acre site covering stunning scenery and troves of Native American historical lands. Bishop and many Western GOP leaders were vehemently against the designation, arguing that the lands should be managed more locally and that the monument would cut off important economic development (fossil fuel extraction) and outdoors (ATVing) opportunities.
G/O Media may get a commission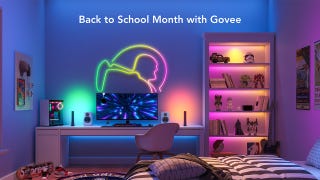 Back to School
Back to School Month with Govee Sale
Bishop's new bill would severely limit what could become a national monument in the future. It would limit the Antiquity Act's use to protecting relics or artifacts, not natural geographic features, and would also make it so that any monument over 640 acres would require a federal review process, thus limiting the president's power to act. Any monument over 10,000 acres would need approval from local states and counties before being established, and no monument over 85,000 acres would be permitted.
Rep. Raul Grijalva, (D-AZ), the ranking Democrat on the committee, was thoroughly unimpressed.
"Republicans will claim that this bill gives us what we want—more transparency—but the truth is that it was introduced without any input from stakeholders, tribes or the scientific community," he said in a statement. "This is further evidence that Chairman Bishop's Antiquities Act bill was thrown together at the last minute with only one special interest group in mind: the oil and gas industry."
Grijalva said the bill is another move in the Trump administration's effort to scale back protections of federal lands and open them up for development. Secretary of the Interior Ryan Zinke has been spending his time deciding which recently designated monuments should be shrunken, and has recommended to Trump that the size of at least four large monuments in the West, including Bears Ears, be reduced. This could potentially open the areas to new logging and mining.
Conservation groups were also quick to condemn the bill, which will now be sent to the House floor after passing the committee 23-17 along party lines.
The Conservation Lands Foundation called the bill an "unprecedented attempt to gut" a law that has "protected some of our most iconic national parks and national monuments."
"This bill would eliminate protections for wildlife habitat treasured by sportsmen, and would virtually eliminate the possibility of protecting undiscovered cultural heritage sites found near other national monuments—a direct attack on Native American Tribes and their heritage," the foundation said in a statement.
According to the Center for Western Priorities, under the rules of the bill, 180 prior uses of the Act would have been "extremely unlikely" or impossible if Bishop's bill had been law at the time—including nine of the 18 monuments protected by the Teddy Roosevelt himself. These include such popular and highly valued sites as the Grand Canyon, Muir Woods, and Acadia National Park. It is not unusual for a monument to eventually be upgraded to a national park by Congress—at least, it didn't used to be.
"Many of our national parks like Acadia, Grand Teton, Arches, and Olympic were first protected as national monuments under the Antiquities Act, which was signed by President Teddy Roosevelt and used by 16 presidents of both parties," said League of Conservation Voters Senior Vice President for Government Affairs Tiernan Sittenfeld in a statement. "But if this radical anti-parks bill were in place at the time, those treasured places would not be protected today."