Okay, maybe it's not so much the exorcism itself that's fun (and technically the exorcism itself isn't in prison), but this week's episode of Constantine had some grand hijinks, with exorcism rites on tape, a topless nun, and a particularly ill-conceived plan from John himself. Well, at least he has friends.
So, before we get to John's terrible, no-good plan, let's talk about Zed. When last we left Zed, one of her father's goons had jabbed her with a tranquilizer and kidnapped her from the Millhouse. Zed's pretty used to being on the run, though, and she stomps and kicks and injects her way to freedom. Go Zed.
Constantine has to take a more mystical route to freedom, however. In order to escape the killer demon, he summons a bigger, badder demon into his own body. The good news: he's healed and the killer demon is startled away. The bad news: he's possessed. Naturally, Manny is pissed. Hey, dude, you want to step in and save the day? Go ahead.
The demon pretty quickly causes some complications for John, landing him in prison (with a little help from a corrupt British diplomat), and that's where the fun starts. We learn John has a number of exorcism rituals on tape, just in case he can't recite them himself. John's demon guest saves him from a prison beating (with a lot of blood, naturally). Zed pretends to be John's conjugal visit. Chas starts a fight with the guards in order to get inside. Anne Marie uses her bilocation to zip around, the spectral nun.
G/O Media may get a commission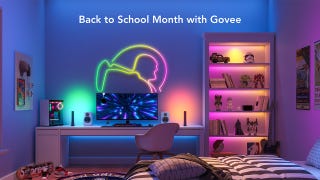 Back to School
Back to School Month with Govee Sale
Naturally, there's a lot of distrust between Anne Marie and Constantine. After all, John has summoned a dangerous demon into his body, one that could wreak havoc on the world if it takes over his body. And Anne Marie, well, she shot John. But when push comes to shove, she lends a hand, even using her bilocation to create a half-naked distraction, one that works extremely well. And when it comes time to perform the exorcism after the prison escape, Anne Marie touches on one of Constantine's core themes: self-forgiveness. Anne Marie must forgive herself before she can expel the demon. It's one of the reasons the show is feeling more cohesive with this episode.
We're also dealing with some of the higher ups in the Rising Dark. The Brujería is sending out representatives — to bribe diplomats (and eat them) and to tempt John. Things are getting serious.
But, of course, the team has to deal with more than the Brujería. We've still got Zed's father to deal with — and the NBC execs who still have the show on the bubble.