Community is getting its fourth season, but it probably won't be the show we've grown to know and adore. Sony has fired Dan Harmon from his show runner role. We're channeling Abed here and making unhappy noises.
Yesterday, Sony Pictures Television, which produces Community, announced that they are replacing Harmon as showrunner with David Guarascio and Moses Port, most recently of ABC's Happy Endings. There was initially some question as to whether Harmon left over his tensions with Sony or was pushed out, and Harmon revealed last night that it's the latter. In fact, he wasn't even consulted about the show's new runners. His future with Community doesn't look bright:
You may have read that I am technically "signed on," by default, to be an executive consulting something or other - which is a relatively standard protective clause for a creator in my position. Guys like me can't actually just be shot and left in a ditch by Skynet, we're still allowed to have a title on the things we create and "help out," like, I guess sharpening pencils and stuff.

However, if I actually chose to go to the office, I wouldn't have any power there. Nobody would have to do anything I said, ever. I would be "offering" thoughts on other people's scripts, not allowed to rewrite them, not allowed to ask anyone else to rewrite them, not allowed to say whether a single joke was funny or go near the edit bay, etc. It's….not really the way the previous episodes got done. I was what you might call a….hands on producer. Are my….periods giving this enough….pointedness? I'm not saying you can't make a good version of Community without me, but I am definitely saying that you can't make my version of it unless I have the option of saying "it has to be like this or I quit" roughly 8 times a day.

The same contract also gives me the same salary and title if I spend all day masturbating and playing Prototype 2. And before you ask yourself what you would do in my situation: buy Prototype 2. It's fucking great.
Sad. Sad, sad, sad. Community has been one of our favorite sources of sitcom geekery, especially with episodes like the Hugo-nominated "Remedial Chaos Theory" (and the subsequent return of Evil Abed!). Hopefully the new showrunners will respect Harmon and company's genre-stretching themes, but given that Dungeons & Dragons and video game-themed episodes haven't won the ratings race, Community's likely in for a major overhaul. Chris McKenna, the last of the show's original writers, also announced that he's leaving Community, and we'll have to see what other changes come crashing down once the next season approaches.
Community's still in the running for six seasons and a movie, but at what cost?
Dan Harmon out as showrunner of Community [AV Club]
Hey, did I miss anything [Dan Harmon Poops]
[via MetaFilter]
G/O Media may get a commission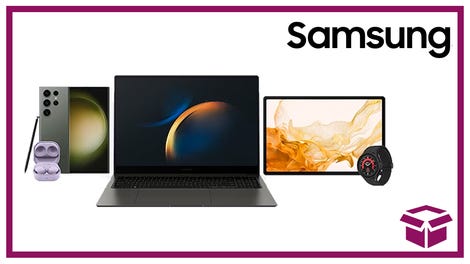 24 hour deals
Discover Samsung - Daily Deal