Confused as to why Dark Phoenix isn't called X-Men: Dark Phoenix like its predecessors in the franchise? Blame Wolverine.
Speaking to Collider on Facebook Live, Dark Phoenix writer-director Simon Kinberg explained that his movie is so influenced by James Mangold's Logan, he also decided to drop the "X-Men" moniker from his title. He hopes, as a result, audiences will have a better idea that the film is about one of the most iconic comic book stories of all time.
"I wanted to call it Dark Phoenix in, again, very much the way we wanted to call Logan 'Logan' as opposed to 'X-Men: Logan'—to indicate that it's a different kind of film and to indicate that it's a more character-driven movie," Kinberg said. "And for me, and [producer] Hutch [Parker], as people who worked on X-Men III: The Last Stand, that didn't have any trace of Dark Phoenix in the title, we really wanted to indicate that this is the Dark Phoenix story and that she's at the center of this story. She's the A-plot of this story, everything around this story revolves really centrally around Jean/Dark Phoenix as really the subject of the movie, not the object of the movie."
In case you don't remember, Kinberg refers there to Brett Ratner's X-Men: The Last Stand, which was very much driven by the Dark Phoenix story but kind of hid that fact behind the bland title. Here, they are playing right into it so much that it's not immediately obvious it's an X-Men movie. Though, as was proved with Logan, the actors and characters kind of make that clear.
Dark Phoenix will be released June 7, 2019.
[h/t ComicBook]
G/O Media may get a commission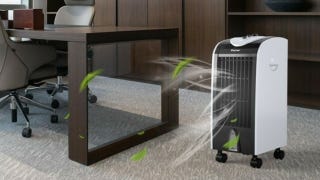 Save $10
Evaporative Portable Air Conditioner Cooler with Filter Knob