We still don't know which Spider-Man villain Rhys Ifans is playing, but an astute observer has come up with a pretty convincing guess. Yet another actor denies he's a Batman villain. We'll be waiting awhile for Kick-Ass 2. Spoilers today!

Spider-Man Reboot:
We still don't know which villain Kraven is playing, but there's some interesting speculation over at Hero Complex that it might be Kraven the Hunter. Specifically, the Australian reality show host version of the character created by Brian Michael Bendis for Ultimate Spider-Man. The article also quotes Marc Webb's one cryptic statement on the character: "Rhys's incredible ability to embody both warmth and rage makes him the ideal choice for this character." That does sound like a potentially good match for a noble but deeply flawed warrior like Kraven, but this is still all just speculation.. [Hero Complex]
Wolverine 2:
On second thought, maybe the sequel to the poorly received spin-off of a movie franchise that needed to be semi-rebooted just to be made creatively viable again is the logical next step for acclaimed auteur Darren Aronofsky. He reportedly has passed on another project to take the Wolverine 2 gig, and now he's just hammering out a deal that will reward him handsomely for his efforts. [Deadline]
G/O Media may get a commission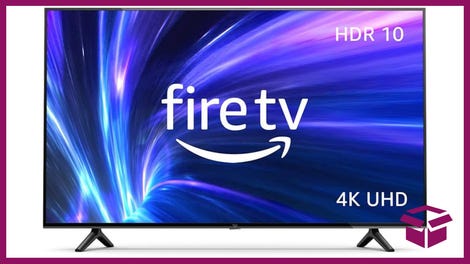 42% Off
Amazon Fire TV 50" 4K Smart TV
Kick-Ass 2:
Lynsey Fonseca, who plays Kick-Ass's girlfriend, says everyone is busy with their own projects right now, so don't expect the sequel any time soon. [MTV Movies Blog]
Batman 3:
Apparently, someone took Edward Norton's musings that he would love to be in a Christopher Nolan movie as proof that he was playing the Riddler. So Norton has now categorically denied those rumors, saying there's absolutely no truth to the idea that he's playing the character, or even appearing in the movie. [ComicVine]
Ghost Rider 2 - The Spirit of Vengeance:
Because this cast wasn't crazy enough already, the Highlander himself, Christopher Lambert, says he's in negotiations to appear in the movie. [ShockTillYouDrop]
Transformers 3:
Here are some pictures of Shia LaBeouf and Rosie Huntington-Whiteley, who appears to be wearing some sort of White House badge, on set: [JustJared]

And now for the real stars of the movie, some cars in a parking lot: [TFLAMB]

Harry Potter and the Deathly Hallows:
A few new posters are out: [CinemaBlend]

Red:
Karl Urban explains who his villainous William Cooper is:
He is a CIA officer. A CIA hitman. He's also a family man - he's trying to balance out a very brutal career with a family, and in this movie, when we find him, he gets given the job of hunting down Bruce Willis. Through the course of the film he comes to a better understanding of why he's been asked to do what he's doing, which gives him an opportunity to do the right thing.
[IGN]
Fringe:
Here's a behind-the-scenes look at the next "over here" episode, "Do Shapeshifters Dream of Electric Sheep?": [Fringe Spoilers]
Chuck:
Here's a promo for the next episode, "Chuck vs. the Couch Lock": [SpoilerTV]
Along with some new promo photos: [SpoilerTV]

Now for a few from episode six, "Chuck vs. the Aisle of Terror", featuring Robert Englund: [SpoilerTV]

The show is reportedly casting a pole-dancing class instructor. Since Ellie is pregnant and this seems like the sort of thing Sarah would need to learn for a new spy cover, it's likely (but purely speculative!) that Sarah is the one headed to class. [E! Online]
The Event:
Here's a promo for episode 5, "Casualties of War": [SpoilerTV]
And here are some photos from the same episode: [SpoilerTV]

The next few episodes will reveal more about Dempsey (Hal Holbrook) and his vast, multinational conglomerate that's bigger and more powerful than most government. There's a good chance he's the show's real villain, reportedly. [TV Guide]
Supernatural:
Here's some interesting speculation, based partially on an off-hand comment from Jensen Ackles, about whether Sam actually lost his soul during his time in Hell. [TV Overmind]
Actor Joe Allard is apparently playing an elf in an upcoming episode. [SpoilerTV]
Caprica:
The cast and crew explain the importance of the Global Defense Unit in this video: [SpoilerTV] Click to view

Star Wars - Clone Wars:
Here are a couple new clips and a picture from the next episode:

V:
Executive producer Scott Pearlman explained the lessons they learned from the first season, as well as what the addition of Jane Badler's Diana brings to the show:
"Anna represents aliens, and Erica represents humanity and mankind. The addition of Jane at this point for the season has played only with Anna. But what that's allowed us to do is to be able to play mother/daughter. And we're also playing mother/daughter on various levels, like the one between Erica and Lisa, which we saw the beginnings of last season. Seeing Anna and her mother and playing off how they are similar and different has been a real fun area for us to go to in the storytelling."
There are a lot more great quotes to check out at the link. [Blastr]
Smallville:
Here's a new video spotlighting the 200th episode, "Homecoming":
Click to view

When Clark gets sent to the future in "Homecoming", he interacts with a future version of Lois. We also get to see the future Lois and Clark together, and apparently we get "a big taste of...their wardrobes." I can't believe we'll see the suit before the end of the season, but that sounds intriguing. Also, Cat Grant will be back in a later episode, and actress Keri Lynn Pratt unsurprisingly reveals that, "I'll unintentionally be in the middle of things!" [Fancast]
Another note on his visit to the future - executive producer Brian Peterson says what he sees there causes his leadership skills to jump up to the next level, and he'll seem a lot more Superman-like. [TV Guide]
The 200th episode also features the return of James Marsters as a now-benevolent Brainiac, as well as some emotional scenes between Clark and Lois. Executive producer Kelly Souders reaffirmed we'll be seeing Justice League and Society members again, and that they have a major presence in the middle of the season. And although they've said there won't be too many huge Justice League team-ups, there will be a few occasions where more than one team up with Clark, and one such appearance is coming soon.
From the same report, the show is reportedly going to send Clark to an alternate universe, where he will meet an alternate version of himself. The end of the episode will supposedly "have everyone talking." Alternate universes have generally been a big deal in DC Comics, and there are a lot of potential alternate versions he could meet. An older, Earth-2 Clark Kent who has spent forty years wavering on whether or not he should become Superman? An evil, Earth-3 Clark Kent who has spent ten years debating if he should become Ultraman? Or perhaps he's going to something more like the iconic, comic book DC universe. Time will tell, I guess... [E! Online]
Additional reporting by Katharine Trendacosta and Charlie Jane Anders.