At NYCC, the traditional DC Universe fan circus hosted by executive editor Dan DiDio was dominated by the recession, mouthy fans, a mistake that made DiDio take his seat — and a peek at what's coming up.
The main point that DC Universe first sought to drive home was that in tough times when other publishers were raising their prices, they had heard the voice of the people and were rolling the price of books to $2.99.
This was unveiled via a giant Rosie The Riveter graphic on-screen expressing that they would "Hold the line," and "Keep it 2.99."
After some more poking at other publishers' prices and crowing about DC Universe's cost-saving advantage, it was an open room for the crowd to ask questions or make statements or random outbursts, as they are wont to do. All was enthusiastically fielded by DiDio's deadpan delivery and the panel of DC luminaries that included co-Publisher Jim Lee.
G/O Media may get a commission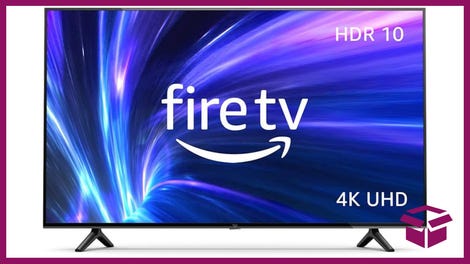 42% Off
Amazon Fire TV 50" 4K Smart TV
One young man stood to thank DC for including more characters that are people of color in their books, especially Aquaman (paid homage by his costume). DiDio responded that DC's stories had to reflect the wide diversity of their audience.
He then led us through mentions of various series. "Who wants to talk about Hawkman?" Utter silence. "Martian Manhunter?" Screaming and applause.
Through all of this, a costumed girl had been brought up from the audience and allowed to sit with the panel, and at one point claimed a microphone to opine: "But is he Batman pre-Crisis again? What is Grant Morrison thinking?" to hisses from the audience and a bemused panel.
Many more upcoming titles and ideas were discussed: Batgirl in college facing campus foes. What would we think of a Batman and Wonderwoman romance? Shouted from the back: "SELINA!" Hints that a kinder, gentler Bruce Wayne might be forthcoming, with romantic storylines.
Crossovers that sound bizarrely right, like Lex Luthor meeting Sandman's Death.
Superboy #1 will be centered around a secret history of Smallville, and he'll race Kid Flash. Krypto might also be a player.
Jim Lee, following a discussion of superpets and the like, admits, "I hate drawing animals. My dogs look like rats. My rats look like alligators."
A fan asked, can Geoff Johns go back on Superman? DiDio explained that Johns has about 6 full-time jobs right now but Flash Point is coming up. And there'll be a Who's Who following that.
Zombie will be out in February, and Static Shock in April.
What do we think about the new Wonderwoman costume? Cheers, jeers, a scrum over the costume change, though some "like that it's real." Others: "Sucks!"
When the panel is asked when more GLBT characters will be represented, the response is that Batwoman 0 is due in November of next year.
DC Universe's video game has a February shipping date and will not be available on Mac (cheers, jeers).
Asked if Vertigo characters could find themselves worked into the DC Universe in the future, DiDio was emphatic in repeating, "NEXT QUESTION!"
We moved into a lightning round phase where fans could shout yes or no questions. One stood to ask, "Is the evil Martian in Brightest Day John's wife?" to which DiDio came back with "No—" then, "Shit, sorry." He was then sent to the table to take a seat, head held in mock-shame, while the audience went wild and the Q&A was continued by less loquacious parties.