Spoilers reveal all — like revelatory Book Of Eli stills and a 9 video. New Dollhouse promo pics take the show's title ultra-literally. Plus major Lost casting news. Plus Doctor Who, Fringe, FlashForward, Supernatural, Smallville, V, Heroes and Eastwick spoilers!
A few new stills show Denzel stalking the shattered post-apocalyptic landscape in his dark brooding sunglasses. [SpoilerTV-Movies]

G/O Media may get a commission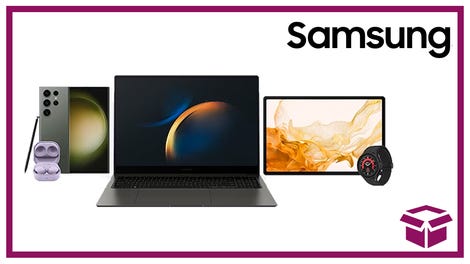 24 hour deals
Discover Samsung - Daily Deal
9:
Here's a new TV spot, called "The Count":


Lost:
There's a casting call for the first two episodes of the final season — they're seeking an actor to play Jeff, a polished and sympathetic public relations rep for a high-profile company. He has to deliver some bad news, and he tries to hide his nervousness behind a professional, reassuring smile. [SpoilersLost]
Also, Japanese superstar Hiroyuki Sanada, best known for appearing in the U.S. in The Last Samurai and Rush Hour 3, will play an undisclosed recurring role in season six. One theory: He's the wise teacher who helps get an amnesiac Locke back on his correct path in the new, revised timeline. [EW]
Dollhouse:
A new poster for season two debuts the slogan, "Anyone Can Happen," and new promo pics show Eliza Dushku posing in — wait for it — a dollhouse. Neat! [THR and SciFiScoop]

Also, Keith Carradine will appear in at least two episodes, playing powerful businessman Matthew Harding. [EW]
Doctor Who:
Not sure if any of these pics are new (some of them just look like trailer screencaps) but the BBC uploaded a promo gallery for the next story, "Waters Of Mars." [BBC]

Fringe:
In episode 1x06, "Earthling," we're going to meet Diane, Broyes' attractive, African-American ex-wife. [SpoilerTV]
And in episode 1x07, "Of Human Action," we'll meet FBI director McKenna, a former colleague of Broyles. Plus Tyler Carson, a 15-year-old boy who has a worried look all the time. [SpoilerTV]
Supernatural:
Here's the official description for the season opener, "Sympathy For The Devil":
Picking up where the finale left off, Dean (Jensen Ackles) and Sam (Jared Padalecki) watch as the Devil (guest star Mark Pellegrino, "Lost") emerges from Hell. The brothers and Bobby (Jim Beaver) deal with the aftermath of Lucifer rising and the stunning news from Chuck the Prophet (guest star Rob Benedict) that Castiel (Misha Collins) was blown to bits by the archangels.
And there are two characters being cast for episode 1x06, "I Believe The Children Are Our Future," one of whom will be a recurring character:
[JESSE] 11-year-old boy (10-13 to play 11), he is a smart and sad all-American kid who is wise beyond his years and way too serious for his age - and has a real independent streak. Adopted as an infant, he has no idea of his lineage, simply perplexed by his uncanny powers. A firm believer in all things kid-like, such as the Tooth Fairy and the danger of joy buzzers. He is faced with a very grown up decision. Please denote age next to your suggestions ...RECURRING GUEST STAR

[JULIA] In her early 30s, mousy and pale, Julia looks like she hasn't had a good night's sleep in about eleven years. Sort of meek, she becomes overtaken by a dark, dark force...GUEST STAR
Smallville:
Steph Song twittered that she's been cast as a villain named Victoria aka Roulette, in episode 9x06. " I get to kick some serious ass in this. all I can tell you is that she's a trickster, a villain, a master deceiver all in a very tight red dress. ;)" [Twitter via SpoilerTV]
And if you want to know more about Victoria/Roulette, there are some script pages circulating for casting purposes. Oliver Queen is in a casino, where he's losing tons of money and his joie de vivre — he puts his Lamborghini on black, and the ball lands on red. He decides to eat some potentially deadly blowfish because he needs to risk death to feel alive. Then Roulette turns up, looking stunning in a tight red dress, and offers to help Oliver regain his lust for life — she plays a weird shell game, and under one shell is a red pill, which she tells him to take. He takes it, and blacks out.
But he doesn't wake up realizing he's been in the Matrix — instead, he just gets annoyed at Victoria and her drug-crazy game. Turns out she works for some nasty people, and they would have killed her if Oliver hadn't taken that pill. And then they kill her anyway, and Oliver is left holding her as she bleeds to death. The cops nab Oliver as a suspect in her murder, but then an FBI guy shows up and springs Ollie. He tells Ollie Roulette's gang targets rich dudes and tries to take all their money. And he encourages Ollie to check his bank accounts on the handy nearby laptop, and Ollie's relieved to find his money's all still there. (And if there's any justice, that laptop had a key-logging software and Ollie's accounts are grass.) [SpoilerTV]
FlashForward:
There are a ton of casting calls for episode 1x07. We'll be going to school, where we'll meet Jeff, a nice former teacher of the year who's embraced his dark side and keeps his head in a crisis; Rafael, a high-school Spanish teacher who advises the school newspaper and advises a student who's uncovered an unfortunate situation. Plus Chris, an uber-competitive soccer coach who will do anything to win.
And it sounds like we'll spend some time in a hospital. There, we'll meet Komanchek, a crazy old guy who's a loose cannon; Suki, a 70-something Japanese woman who gets agitated and shouts to be heard; and James, an African American desk clerk at the hospital who tries to defuse a difficult situation that involves shouting. We'll also meet Matt, a former Marine and Iraq war veteran, who's just completed a two-year rehab program and is looking to restart his life.
We also meet Celia, the mother of two five-year-old boys who talks in a voiceover about wanting to bring as much joy as possible into her kids' lives; Squirrel, an FBI analyst with Asperger's syndrome — every show needs one of those; a friendly bartender who lubricates a tense situation by keeping the drinks flowing; a bouncer at an exclusive club; and Nadine, a sultry chick who propositions a complete stranger in the club. [SpoilerTV]
V:
Josh Hamel says he's been cast in a major role on this show — and speculation is, he'll play a character named Billy Hamel. [SpoilerTV]
Also, there's a casting call for Mary Falkner, the widow of the F-16 pilot whose plane went down when the alien motherships first showed up. She's been on a hunger strike ever since. [SpoilerTV]
Heroes:
Actual good news! Jayma Mays will come back for one episode, to reprise her role as Charlie, Hiro's doomed sweetheart. Since Hiro is dying, he's zipping around through time trying to accomplish his "bucket list" of things he wants to accomplish before the end — so probably saving Charlie is top of the list. [EW]
Some new set pics show HRG and Tracy hanging out. They're forming a street-corner doo-wop group together! More pics at the link. [SpoilerTV]

And another set pic shows Tracy hanging out with a mysterious man in black. More at the link. [HeroByDay.net via SpoilerTV]

Eastwick:
Here's a new scene from the witchy pilot, plus some interviews with the cast:


Plus a couple new promos:



There's a casting call for episode 1x04: An elderly woman walks by, stops a young man and proceeds to kiss him. (I'm guessing there's a spell at work. Just a thought.) [SpoilerTV]
And here are some promo pics. [Eastwick Fans via SpoilerTV]

Additional reporting by Alexis Brown.