Ratings for the television incarnation of Dollhouse saw a 25 percent uptick, but remain perilously close to the danger zone. But news from this weekend's Baltimore Comic Con suggests the show may have comic-book life after potential death after all.
During Dark Horse Comics' Buffy The Vampire Slayer panel, editor Scott Allie said that Dollhouse creator Joss Whedon had reversed his previous "No Dollhouse comic" stance:
Dollhouse? There's a chance... When Joss first told me he was going to do the 'Dollhouse' show, I said 'Well, I know you don't want to do comic right away, but whenever you want to do then, we want to do them.' He said, 'Yeah, I just don't really see how it's a comic, but if we're gonna do it, I'll do it with you guys.' And then at San Diego this year, he said 'I know how we can do it as a comic.' And that's where we left it.
If Dark Horse does end up with a Dollhouse series, they'll have the experience to do it right; in addition to their Buffy Season Eight series (With a Season Nine series to follow, possibly starting in 2011, according to Allie), the Oregon-based publisher also publishes comics based on Serenity, Dr. Horrible's Sing-Along Blog and Whedon's comic-only creation, Sugarshock.
BCC: "Buffy The Vampire Slayer: Season 8" Panel [Comic Book Resources]
G/O Media may get a commission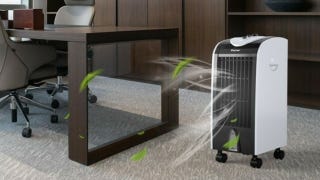 Save $10
Evaporative Portable Air Conditioner Cooler with Filter Knob