LONDON— Governments may govern nationally, but scientists must work globally by requirement, as the folks who establish human truths based on evidence. So while scientists took to the streets in Washington D.C. today, marches in 600 cities globally joined them.

A crowd of several thousand marched from London's Science Museum to Parliament Square in the shadow of Big Ben. Donald Trump might not be the President, but solidarity, Brexit woes and a general love of evidence-based facts drew the excited crowd. Oh, and Doctor Who aka Peter Capaldi was there.
The speakers at the march shared similar sentiments. "My main thing is that I think it's really important for scientists to be seen," Brenna Hassett, an archaeologist based at London's Natural History Museum, told Gizmodo before the march. "The presence of science in our society tends to wander off to some esoteric ivory tower. If you can't see an expert as a real person, why would you believe them?"
Researchers had plenty of reasons to join the march, but one of the prime motivations was solidarity with the American marches, march organizer Story Sylwester told Gizmodo. She moved to the UK from the United States in September to do research and started the March for Science London Facebook group. Plenty of the march's posters depicted our president's face or referenced American policy. Scientists made the obvious influence of American politics on their motivations clear while I chatted with them during the two-or-so-mile walk.
G/O Media may get a commission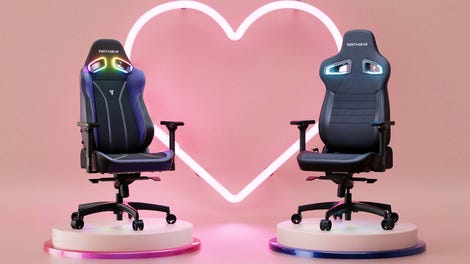 Up to $150 off
Vertagear Gaming Chairs
However, the United Kingdom's scientists have marched before—back in 2010, the campaigning group Science is Vital, marched in response to feared funding cuts. "What is our government doing? Mostly they're ignoring science," Andrew Steele, chair of the organization, said during his speech today. He mentioned that the Saturn probe Cassini cost three billion dollars— "sounds like a lot of money until you compare it to anything else," such as America's military spending.

Brexit's shadow hasn't cleared either and continues to concern the researchers marching today. "Brexit is already negatively impacting the potential for international collaboration," Suze Kundu, a nanochemist at the University of Surrey told Gizmodo. "It's threatening the number of students we can send to other countries. It can mean we lose access to the facilities we rely on, and will be losing out on funding." Organizers and speakers hoped to send a message to the British government, given the rally's spot in front of the Parliament building.
And as far as I could tell, there wasn't much of the infighting surrounding inclusivity that plagued the March for Science in Washington DC. Sylwester said they'd had diversity and accessibility advisors from the beginning—it's been an important part of their planning. Diversity and inclusion peppered many of the talks in the rally after the March. "Scientists aren't all white men with white hair in lab coats," Pete Etchells, lecturer in biological psychology at Bath Spa University, said during his speech. "If you look around you today, everyone, anyone from any walk of life can be a scientist."
Overtly political groups made an appearance too. "We think that science is a public good," said Ed Long, an engineer leading a group toting a sign supporting the UK's Liberal Democrats. "Spending decisions are made by politicians. We have to make an effective plea to politicians to value scientists. Some of it needs to be in a non-partisan way, and some need to be political."
Probably most importantly for Gizmodo and io9 readers, the current incarnation of Dr. Who, Peter Capaldi, made a visit to shake some hands and sign some posters. He even signed a poster held by members of Cochrane, the group that runs the Cochrane Library: He marches because "Science is great and it will save the planet and science is fucking great," signed Dr. ? Malcolm Tucker.
But probably most importantly, researchers just wanted to be seen and show the world that they're humans, just like everyone else, with real concerns about diversity, funding and how science is looked at in the larger media, said Hassett.

"We're actually real people. We're not in wizard suits."
In fantastically British fashion, the rally ended with a group caroling of Monty Python's Galaxy Song.
The reporting for this article was partially supported by a grant from the National Science Foundation