Why have so many manga titles - including the ever-popular Dragon Ball - been censored in the United States? The fact is that fans here buy manga because they love the Japanese sensibility that censors want to whitewash out.
"What a hideous and polluted land I have come to unawares!"
-the Shinto deity Izanagi upon viewing the Underworld, as quoted by Ian Buruma in Behind the Mask: On Sexual Demons, Sacred Mothers, Transvestites, Gangsters and Other Japanese Cultural Heroes (1985)
On October 7, Joe Holloway, a 53-year-old County Councilman from Wicomico County, Maryland, displayed photocopies from Akira Toriyama's martial arts comedy manga Dragon Ball before his shocked fellow council members. On display were topless girls, jokes about dirty old men and girls' panties, crotch-patting, and a naked monkey-tailed boy with a Maurice Sendak-esque baby penis-this in a book rated "for teens aged 13 and up." The mother of a 9-year-old child had found the manga in the school library and alerted Holloway, who went to the council rather than contacting the school board. "The drawings and story lines are disgusting," Holloway, a Republican grandfather, said. Although some county and state library officials spoke out in favor of graphic novels and parental responsibility, the book was quickly pulled from the school library. The blog Delmarva Dealings ran the post title "Wicomico Schools Peddle Smut to Children."
In response, Greg Latshaw, a journalist for the Del Marva Daily Times, made the brilliant observation that "The book, 'Dragon Ball Volume 1: The Monkey King,' is laid out like a comic book." The word "manga" doesn't even appear in Latshaw's article, nor does this summer's already-forgotten bomb of a Hollywood film adaptation Dragonball Evolution (which excised the panty jokes anyway).
Despite its recent rise in popularity, manga, like most pop culture in the kaleidoscopic media landscape, is invisible if you don't know to look for it. The fact that it's published right to left, in keeping with the original Japanese format, surely deflects the eyes of a percentage of nosy parents who might otherwise figure out what their kids are reading. Manga is just the Japanese word for "comics," one of the many forms of graphic novels. But to serious fans, manga is a language of its own, a private space.
G/O Media may get a commission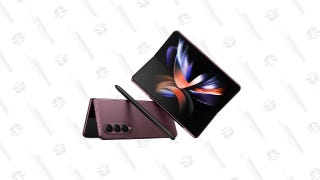 Save Up to $300
Galaxy Z Fold4
Created for Japanese readers, manga exhibits different "community standards" from those in America. In manga, it's perfectly fine for a villain to chain the hero to a cross in a kid's show; and it's common to see lots of bare breasts in a teenage boys' comedy like Negima! or Tenchi Muyo!. Aware of these cultural differences (which are often censored in American editions), many manga fans defended Dragon Ball's right to mix nudity with martial arts scenes. "Every single example you can pull out of the DragonBall series for 'offensive material'…are childish mockeries of offensiveness," said a commenter on Anime News Network." "Nudity does not mean pornography, and Dragon Ball is strictly 'naked people are funny'," said another. Other Anime News Network commenters, however, pointed out that Dragon Ball is labeled "for ages 13 and up" and shouldn't have been in an elementary/middle school library anyway (though the fact that it was also pulled from the local public library was more troubling).
Meanwhile, just a few days before the Wicomico story broke, another battle was being waged across the mangasphere. When Yen Press announced their plans to publish the Japanese wolf-spirit fantasy novel Spice and Wolf with a paranormal romance photo-cover rather than the original big-eyed manga-style cover, fans exploded with outrage. The light novel blog Ranobe Cafe was fairly even-handed about the new cover itself, but closed with an urgent request that Yen Press retain the English subtitle from the Japanese edition, "Merchant Meats Spicy Wolf." ("This tagline is IMPORTANT. The author has admitted that the tagline's mispelling (sp.) of "Meets" to "Meats" is eluding (sp.) to something not yet shown in the story.")
The complaints about the cover itself, however, had a common thread of surprising prudishness. Here are just a few comments posted by fans:
"I find this cover prurient and distasteful." "This is absolutely horrible, you are trying to GAIN customers by putting a blurry nude woman on the cover?" "It's too erotic." "I think it's shameful that you feel you have to resort to a cheap tactic like nudity to sell this book." "Low class person who enjoys reading trashy romance novels…filthy American adult novel…Twilight fans and sleazy romance novel fans…cheap erotic novel…trashy romance novel…trashy sex-romance novels…degrading…"
Never mind that the heroine of Spice and Wolf does, in fact, appear naked for much of the first volume, and that one nude scene is even illustrated in the Japanese edition. Regardless of the trashiness of the cover, the message was clear: People felt the Americanized version of sexuality was disgusting and crass, and considered the original Japanese sexuality subtle and delicate. It's the kind of "fetishizing the Japanese" sentiment that could have been expressed 120 years ago by European visitors to Japan talking about geisha and gathering artifacts japonais.
As much as American manga publishers might deny it, one of manga's big appeals to Americans is not its "high quality" but the fact that it is Japanese, and has a Japanese sensibility. There are incredible manga in many genres, such as cooking manga (Oishinbo and Iron Wok Jan), football manga (Eyeshield 21), and manga about lovesick alien ovaries (Little Fluffy Gigolo Pelu), but America's current #1 manga, Naruto, is a ninja story. Naruto, whose highly realistic artwork is actually very Western-influenced (by way of Katsuhiro Otomo), offers Americans the thrill of Japaneseness without challenging them too much.
For hardcore manga fans, though, Naruto and Dragon Ball are already too Westernized. In the classic 1991 anime Otaku no Video, proselytizing anime fans overcome the haters, take over the world and sail off on a spaceship into the stars, but most manga and anime fans are more like the ones in the 2002 manga Genshiken: perfectly happy in their private fandom but not so eager to spread the message. The easy availability of scanlations (online bootleg translations of manga) makes it even easier for hardcore fans to self-marginalize by removing any economic weight from their opinions. CMX's censored edition of the martial arts manga Tenjho Tenge in 2005 infuriated hardcore fans, but those were the ones most likely to just read the scanlations anyway. If you look around, you can find free scanlations of almost any popular manga online. By the 2000s, manga and anime fandom had entered the age of the hikikomori (shut-in), becoming increasingly withdrawn and insular, obsessed with fetishes like cat ears and maid uniforms.
When the alternative is Dragonball Evolution, who can blame hardcore fans for refusing to assimilate? The truth is that I, too, am guilty of Orientalism; I think manga are objectively some of the best comics on Earth, but I also read it for the weird, the extreme, the sincere craziness which you can't find in American young adult comics and fiction.
As Naruto and Bleach creep into the mainstream, the truly hardcore fans are the ones who keep manga disrespectable-the female fans reading yaoi guy-on-guy pornography, the (shudder) guys who play galge (girl games, aka dating simulations), the retro freaks reading "gar" macho-man manga of the kind that stopped being popular with Fist of the North Star in the 1980s. I'm not suggesting we embrace everything thoughtlessly; I wouldn't want Americans to become comfortable with the ways some manga artists draw black characters, just as I wouldn't want the sexual harassment in manga, including Dragon Ball, to become assimilated into an anti-feminist backlash by clueless weeaboos. (A college-age fan once explained to me at length how the breast size jokes in Slayers weren't sexist because "She's flat-chested, but she's the heroine! It shows that a heroine can be flat-chested!") On the other hand, I love the disrespectful Japanese attitude towards Western religion, I love the violence, I love the imagination, I love the sincerity.
Perhaps the sincerity most of all. Manga can be funny and cynical as hell-look at Excel Saga-but there is something refreshing about most manga's earnest attitude, its lack of hipster irony. It makes for great stories. (Sadly, it also attracts fans who have no sense of irony about things like changing the cover of Spice and Wolf.) At this moment, while manga is engaged in a battle between mainstreaming and marginalization, it's worth mentioning that manga publisher VIZ's very same Dragon Ball was censored once before, in 1999, after parental complaints led to it being pulled from Toys 'R Us. The result satisfied no one-parents still complained about the semi-dirty jokes which remained in the censored edition-and VIZ went back to the uncensored edition a few years later. It was the uncensored edition which Joe Holloway called "disgusting."
But when teenagers smoking cigarettes is enough to get popular weekly boys' manga SHONEN JUMP magazine pulled by retailers, despite an "ages 13 and up" label, how can you win? In American culture, where you can't show the briefest nudity in less than an R-rated movie, the really surprising-and encouraging-thing about the Dragon Ball incident is that this kind of thing doesn't happen more often. I would love for manga to become more popular, but I also embrace its sub-cult nature. Long live the invisible manga, the manga that gets overlooked because it's not about ninja or fox-eared girls. Long live manga that doesn't pass through American cultural filters. Long live filth.
"Invisible Manga" columnist Jason Thompson is the author of Manga: The Complete Guide, manga editor of Otaku USA magazine, and the editor of numerous manga series. His graphic novel King of RPGs comes out in January from Del Rey Manga.