You're supposed to dress up in your classiest duds for the holidays, which is why we're here to help you find the season's swankest t-shirts. You know you want them — and you want to give them to your friends, too. Here are 16 gorgeous, silly, and just plain awesome tees that will impress everybody this holiday season.
Art Nouveau Princess Leia
Nothing could be more lovely.
$25 from WeLoveFine
Steampunk Bumblebee
Bumblebee gets the dignified treatment he deserves.
$25 from WeLoveFine

G/O Media may get a commission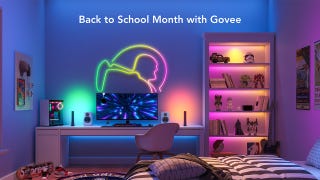 Back to School
Back to School Month with Govee Sale
Juan Ortiz' retro Star Trek episode tees
These are amazing, minimalist tees that celebrate your favorite episodes of classic Trek, and several new ones are out in time for the holidays. We especially love this stylish City on the Edge of Forever tee, and there are more from Ortiz here, at $25 each from WeLoveFine.

Spaceship Timeline
Simple, elegant, and perfect for starting the best conversations ever at your company's holiday party.
$19.95 at Snorgtees

Epic Combo
Fuck yeah, rainbow portal, unicorn, and astronaut!
$24.54 at RedBubble

Fab 14
All dwarves accounted for.
$22.50 at RedBubble

Full Moon — Nightmare Before Christmas
This handsome tee is a subtle, cool nod to everybody's favorite dark Christmas story.
$23.50 at Threadless

Captain Obvious
Well, this is obvious. Especially in such festive holiday colors.
$11.99 at Threadless

Dragon Phylogeny
We've been in love with this shirt since its creator, a biologist, wrote to us to say he'd figured out the genetic history of dragons. Now you can have the first-ever dragon phylogeny emblazoned on your proud chest!
$11.99 at Threadless

Mr. Mittens' Big Adventure
It's a classic tee for celebrating friends, cats and lasers. You can't go wrong with this one.
$11.99 at Threadless

Madness of the Deep
At this dark time of year, Cthulhu's spawn come in with the tides.
$20 at Design by Humans
The Evil League . . . of Evil
Nothing says good cheer like a nice, red Evil League of Evil logo across your chest. UPDATE: This shirt appears to be sold out.
$18.00 from T-Shirt Laundry

Curiosity Killed the Cat
It's awful but you love it.
$18.00 at T-shirt Laundry


Yeti vs. Deathbot Battle Royale
Show off the cool show you saw on your trip to alternate universe San Francisco, where the fight of the century was a standoff between a Yeti and a Deathbot.
$28 at Giant Robot


I Am A Ninja
Of course you are. Etsy seller Steppie has this adorable TMNT design, as well as some other cute ninja shirts for all your sneaky needs.
$15.00 at Steppie on Etsy


Enormous Green Rage Monster
It's the now-classic line from Tony Stark from the now-classic Avengers movie, describing the always-classic Hulk.
$22.99 on Superhero Stuff