The internet is united in hatred over the new X-Men: First Class posters. But are they really so bad? Check out the wave of online vituperation.
These posters, featuring James McAvoy as Professor Charles Xavier and Michael Fassbender as Erik, were released via X-Men: First Class' facebook page. And with that, the wrath was unleashed.
Here's what some sites had to say:
"New 'X-Men: First Class' Posters Hit The Web and Fans Weep" - Geeks Of Doom
"Resoundingly Crap" and "Seemingly knocked-out in fifteen minutes over a lunch break by someone whose mutant power is to be really shit at using Photoshop..." - Indie Wire
G/O Media may get a commission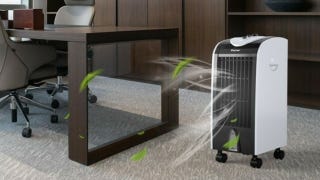 Save $10
Evaporative Portable Air Conditioner Cooler with Filter Knob
"What a floating head disaster!" - Obsessed With Film
"We can't imagine which segment of the movie-going audience would see them and say, 'Hey, this looks like a movie I want to see.' Perhaps only people who think stomachs should have faces." - Blastr
"The posters could have been created by a 5 year old with PhotoShop." - Screen Crave
"To date, they've [Fox] released some fun and interesting still images, a terrific trailer... but now they completely drop the ball with two ridiculously amateurish one sheets depicting Magneto and Professor X and the faded visages of the men they once were? Gah." - JoBlo
"Boy are they awful." - Brand New Cool
"Yes, these are real posters, they came from the official X-Men Facebook and they're atrocious." - First Showing
"Featuring disembodied floating heads in silhouettes, these don't add anything to the current promo material, and let's face it, they should probably not have bothered." - Total Film
Slashfilm hypothesized that the new X-Men posters are the Worst Studio-Released Posters of the Year So Far.
Meanwhile Cinemablend compared the "abomination" to the posters from Street Fighter: The Legend of Chun Lee. Thankfully the site offered up a MUCH better version that was "not made by 8th graders," via artist Eric Tan (created in 2007).
But in with the counter claim was Movie Line telling everyone to chill out calling the posters, "Not terrible!"
So here's your chance to help X-Men: First Class have some posters that don't look like they were designed by first-graders. We're declaring a Photoshop contest! Create your own X-Men: First Class posters and post them in the comments — we'll put up the best ones in a gallery in a few days.