You may know musical bon vivant Mike Patton from such acts as Faith No More, Mr. Bungle, Tomahawk, and Peeping Tom, but the singer also does quite the share of voice acting. For example, Patton has lent his formidable growl to the zombies in Left 4 Dead and the infected in I Am Legend.
At Comic-Con, Patton was on hand to talk up the The Darkness 2 video game, which is based on Top Cow Productions' comic book about supernaturally possessed Mob hitman Jackie Estacado. Patton voices The Darkness itself, so we asked the Man of a Thousand Voices what it was like to reprise this sinister role. (We also asked him what his voicemail sounds like.)
How was it getting back in character for the sequel?
It was pretty smooth. I had to go back and revisit the first game, but [recording] was even easier than the first one. When you read the script, you're in a vacuum, but it's exciting to see it come together when you see the screenshots. What's amazing about The Darkness is that it made a really good transition from book to video game, and now they're talking about all sorts of secret media things.
Would you consider yourself a comic fan?
I was really into V for Vendetta, the [Frank] Miller stuff, and A Cotton Candy Autopsy.
G/O Media may get a commission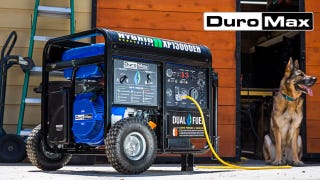 Black Friday Sale
DuroMax Generator Sale
Are there any particular vocal exercises to prepare you for playing The Darkness?
Not really, other than scream my guts out, which I do on a daily basis.
How do you keep your vocal cords in good shape?
You're looking at it. [Points to can of sugar-free Red Bull.] No, every time I've tried to do it the "correct" way, it hasn't yielded any results. I try not to over-think it.
Do you psychically prepare yourself for screaming your roles?
Not really. It comes natural.
Are there particular vocal noises that you're digging nowadays?
I'm doing a lot of straight crooning. I've been listening to a lot of Gershwin and show tunes.
I'd be remiss if I didn't mention that it's been 10 years since the release of Fantômas' The Directors' Cut, an album in which you cover such film themes as Der Golem, Rosemary's Baby, and Twin Peaks: Fire Walk With Me. How did that project come about?
I knew that I wanted to cover my interpretations of film themes, but there's a lot to choose from. I probably went through 50, 60 different tunes, and I arranged them. The ones that came out the best stuck.
Which songs didn't make the cut?
"Staying Alive." "Fame." Mostly just a lot of B-horror and film noir from the 1960s.
What does Mike Patton's voicemail sound like?
I used to have a crazy one, but I started getting some harassing calls. Now I just go to the generic AT&T lady. I was however on a record of prank phone calls [Neil Hamburger's Great Phone Calls] but I was only on a couple of them. We recorded thousands and thousands of calls for that.
When I was 16, one of my friends told me that in the 1990s, you would only do interviews with video game magazines, namely GamePro. I've been too busy the last decade to research the veracity of this statement. True or false?
Let's just call it truth. The more disinformation the better, that's what I always say!
What musical projects do you have lined up?
There's a soundtrack of mine in a couple months, and a live DVD of The Director's Cut in which we play the record front to back.
I also really dug your Lovage project with Dr. Octagon/Gorillaz producer Dan the Automator. Have you guys talked recently?

We talk all the time! He's good, he's in the Congo right now recording with [Blur/Gorillaz frontman] Damon Albarn. I'm jealous! Yeah, we're talking about doing another Lovage record.
Fantastic! With the same line-up as the first record?
It could be the same, with Jennifer [Charles of The Elysian Fields] and Kid Koala.
Have you had any occult experiences while on tour?
We stayed in a haunted hotel in downtown Detroit once. There was this floor that we stopped on — the elevator doors opened and it was pitch black. We thought, "What the hell's going on here?" We were scared and went back up to our rooms. I called my friend and thought, "Let's go check that shit out!" It was an abandoned floor and we started hearing sounds. It was like one of those horrible shows like Ghost Hunters, but there were just some homeless guys living there. That's as supernatural as it got. It was a Ramada.
"The Haunted Ramada." Did that inspire any of your songs?
Not that I know of.