io9 recently had the opportunity to catch up with Felicia Day and Sandeep Parikh, the stars of the long-running fantasy gaming web series The Guild. This duo also co-wrote The Guild: Zaboo, the next Guild tie-in comic book to hit the stands.
Check out an exclusive sneak peek of the comic's first six pages and learn what's up with The Guild's sixth season.
First off, here's a preview and plot synopsis of The Guild: Zaboo one-shot comic, courtesy of Dark Horse Comics. This issue's in stores Wednesday, December 28:
Writer: Felicia Day, Sandeep Parikh
Artist: Becky Cloonan
Colorist: Dave Stewart
Cover Artist: Evan Dorkin

Zaboo has loved Cyd's game avatar Codex from afar since the two first met playing The Game. Just what he'll do for love comes to the fore as he senses Cyd is in trouble and embarks on a real-life quest to escape his mother and become Cyd's knight in shining armor.
G/O Media may get a commission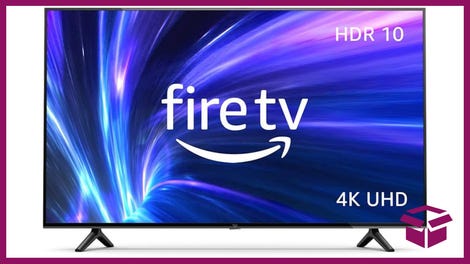 42% Off
Amazon Fire TV 50" 4K Smart TV
And here's our conversation with Sandeep and Felicia about all things Guild-related...
---
Sandeep, how did you get involved co-writing the Zaboo comic?
Sandeep Parikh: I think Felicia wanted a different perspective. We've been collaborating for years, long before The Guild and Legend of Neil. We did improv together, and we cowrote the Bollywood Guild song. In writing, I took everything from my experience as a director and tried to be as visual as possible. We have a page per plot point, and it was great to have Felicia help me through the process.
Season Five of The Guild recently wrapped up this October. What's coming up next for the show?
Felicia Day: We're still actually waiting on the pick-up for next season. The show is owned by me, so it's determined by the best opportunity for it, but I fully intend on doing future seasons, particularly with the cliffhanger for Season Five. It's really exciting where we can go with the characters and that story. In the next couple months, we'll see where the series goes.
And what can we expect from future Guild comics?
FD: I have a couple more things on the horizon coming for next year. I can't talk about them right at this second, but I'm definitely doing comics. The Guild really lends itself to the format, so depending on what happens with future seasons, I really want to integrate comics into the future of The Guild.
SP: The Zaboo comic leads up to first frame of The Guild web series. All of the comic one-shots have been before the webseries takes place.
FD: We added a lot of game aspects to this comic, and this issue brings us up to the timeline of Season 1, Episode 1. The origin story of Codex and the arc of all five seasons of The Guild are filled in with this comic.
SP: If you're a gamer and you look real close, you'll see a few shout outs to your favorite games. Zaboo's perspective on the world is through video games, so page by page sends you to a new world. I like that you can actually play the comic. If you read the margins on the pages, you can learn how to gain XP while reading it.
In Season Five, we saw a flip-flopping of Codex and Zaboo's romantic dynamic. How did that come about?
SP: I really love what Felicia did with the characters. The best part of playing Zaboo is that he has some of most interesting arcs of the entire show. He really grows and evolves more every season. Our relationship is the same thing. How she handled our relationship this season felt really believable and honest.
Any sort of crazy behind-the-scenes stuff happen while filming Season Five?
FD: In the DVD that's coming out later this month through Amazon, there's a behind-the-scenes there that you will not believe. There are two characters who were supposed to be identical twins. So we hired identical twins, but they never made it to set. We have a very awesome, behind-the-scenes piece on how we were waiting for these twins, and we ended up choosing an extra, a Guild volunteer from the Twitter account to become two different roles this season. She had never been an actor before!
SP: She had to level up pretty fast!
FD: It's an awesome story because she was a fan, and now she's canon!
What other projects do the two of you have coming up?
FD: I'm launching a new YouTube channel right now called Geek and Sundry. We're producing a slate of three or four shows right now. Not a very restful holiday, but an interesting next year to come out with some more projects!
SP: I'm actually in a writers' session right now for a brand new web series that I'm going to create with My Damn Channel. I can't really say too much, but it's going to be awesome. It's right up the alley of fans of The Guild and The Legend of Neil.