We've got the brand new, extra long trailer for True Blood's third season. Plus a round-up of the best quotes from last night's fan-panel, featuring just about every vampire and fangbanger in the cast.
First up, here's the brand new trailer which premiered last night, and it's stuffed with bloody bits from True Blood's third season.
What did you think? Did you see our main vampire lady Pam getting strung up by the magistrate? I swear, if he hurts her before she gets to have a lesbian vampire sex scene, there will be hell to pay.
Meanwhile, last night HBO hosted a little panel with Alexander Skarsgård (Eric), Deborah Ann Woll (Jessica), Anna Paquin (Sookie), Stephen Moyer (Bill), Sam Trammell (Sam), Ryan Kwanten (Jason), Rutina Wesley (Tara) and showrunner Alan Ball. Here's what we learned:
The werewolves actually transform into real wolves. Which means the cast had to act with actual wolves, not that twilight were-puppy nonsense. Turns out filming with actual wolves is terrifying.
G/O Media may get a commission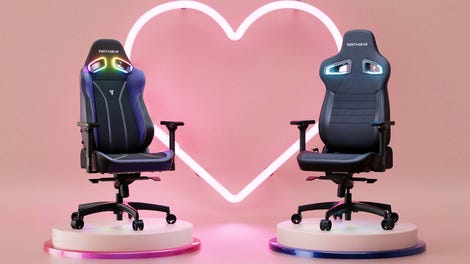 Up to $150 off
Vertagear Gaming Chairs
There are all types of wolves on set — real wolves and wolf hybrids. But they were all pretty terrifying and kept at arms lengths from the actors. In one scene Brit Morgan — Lacey from The Middleman — who plays the crazy ex-girlfriend, Debbie Pelt, of one of the new werewolf characters almost got bitten by one of the wolves. But it wasn't that big of a deal, apparently they were feeding off her energy while she was getting ramped up to kick in a door on set.
So why does Jessica's hymen heal everytime she has sex and yet Eric can cut his hair?
Ball answered this one, in which he explained that these dead folks can heal skin wounds of the flesh. If you're wounded if your skin is broken it will heal. While, hair and nails grow back, because hair and nails continue to grow on dead people. Also, they really wanted to get Eric out of the awful wig.
The vampires have two sets of fangs.
The vampires in True Blood have two sets of fangs, one "hard" and one "soft." The soft fangs are for biting, and have a tendency to break. The hard fangs are for everything else and are quite sharp. Both are very hard to talk in and sometimes give the actors a terrible lisp.
Jason's favorite line was extremely sexual, no big surprise there.
When Kwanten was asked what his favorite Jason-ism was, he explained, "The line to Steve Nolan where he says that heaven was inside his wife. That was rather nice after a whole season of build up."
Skarsgård originally auditioned for the role of Vampire Bill.
People ask Bill to yell out Sooooooookie wherever he goes... We would too.
Spoilers:
Sam's family is messed up.
In the new season bartender Sam goes looking for his long-lost family. But they're not really what he expected. "My parents are really sketchy [and] sort of poor, they're trouble," he explained. "He finally decided that he wanted to go back and see who he was... There are actually a lot of surprises for Sam. He thinks he can go and meet them and get a feel for them and leave, and there are some really big twists that are sort of disturbing."
Ball was asked to reveal some kind of spoiler from the third season, and this is what he said:
One of these people here seated to night will get new hair. There are creatures besides werewolves that we will meet. Somebody's going to take their clothes off. We're going to see a dark side of some of our characters which we don't expect it from, including Sookie.
Things don't get much better for Tara.
Poor Tara still hasn't earned a break, after being forced to date the terrible Eggs, she's still dealing with a lot of bad in the new season. At least, that's what the interviewer Michael Ausiello hinted at when he asked her where she finds "the will to live."
Also Vampire Eric may or may not have a sex scene with another man.
When asked if getting naked all the time was intimidating for the actors many replied, not really. But Skarsgård did admit that he, "just shot an interesting and quite graphic scene a few weeks ago. It was a first for me, I don't want to say what it is yet." And Ausiello mentioned that he read in the press that it was with another man, to which the actor said, by way of skirting around the potential spoiler, "I don't even remember the scene because it was so long ago." So yeah, that means yes.
And now here are a few new minisodes and a behind the scenes look at the new season.
Bill's Minisode
Sam's Minisode
Behind The Scenes