Needless to say, the President is very much alive and well, having not been "shot twice in the lower pelvic area and in the neck" as the @FoxNewsPolitics Twitter account claims.
The tweets began in the early hours of July 4th, and included obvious fallacies such as "@BarackObama has just passed. The President is dead. A sad 4th of July, indeed. President Barack Obama is dead" and "We wish @joebiden the best of luck as our new President of the United States. In such a time of madness, there's light at the end of tunnel." Curiously, before the Obama tweets started, the account tweeted "Just regained full access to our Twitter and email. Happy 4th," but apparently several now-deleted tweets were made before that, stating Fox had been hacked.
A now-suspended Twitter account @TheScriptKiddie claimed ownership of the hack, tweeting "Fox news politics hacked by the scriptkiddies! http://t.co/6yZDcTS more embarrassment for FoxNews is imitate." While Twitter responded quickly and took the account down, a second one quickly sprung up at @ScriptKiddi3s, tweeting "Our old twitter was suspended @TheScriptKiddie here is the new, hopefully permanent, address. @FoxNewsPolitics just hacked."
Following just four accounts—@anonymousIRC, @LulzSec, @wikileaks and @ThinkMagazine, the hackers' inspiration is evident. Hours before the Obama tweets started, the group spoke to Stony Brook University's Think publication, saying:
"I would consider us to be close in relation [to Anonymous], 2 of the members of our group were members of Anonymous. I was a member of Anonymous. We hope to be working with them soon."
G/O Media may get a commission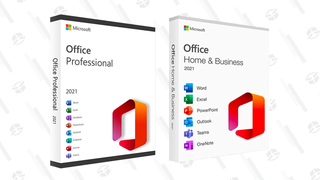 89% off
Microsoft Office Professional 2021 Lifetime License
They also added an insight into why Fox was chosen for hacking:
"We are looking to find information about corporations to assist with antisec. Fox News was selected because we figured their security would be just as much of a joke as their reporting."
While we couldn't possibly comment on that last claim, Twitter users seem to be wise to the misreports of Obama's death, with a search on "Obama" showing a lot of people laughing at yet more of Fox News' "unreliable" newsmongering, and plenty more gushing over the latest high-profile hacking. [@ScriptKiddi3s via ThinkSB and GMANews and Huffington Post and TNW]
UPDATE: Fox News has, unsurprisingly, distanced itself from the Obama tweets, releasing a statement confirming that "hackers sent out several malicious and false tweets claiming that President Obama had been assassinated. Those reports are incorrect, of course, and the president is spending the July 4 holiday with his family." But what is the President eating for lunch, we ask?!
---
You can keep up with Kat Hannaford, the author of this post, on Twitter or Facebook.